Prime Minister Justin Trudeau addresses mourners at the funeral of Abdelkrim Hassane, 41,  Khaled Belkacemi , 60 and Aboubaker Thabti, 44  at the Maurice Richard Arena in Montreal, on  February 2 (Photo /Amru Salahuddien/AA)
Nadine Osman
Canada's Prime Minister, Justin Trudeau, made an impassioned plea to sections of the country's media and politicians to end their divisive rhetoric during the funerals for three of the six Muslim men gunned down at a Québec mosque by a suspected far-right terrorist.
The premier had also distinctly labelled the mass shooting that left 17 children fatherless a "terrorist attack on Muslims". Trudeau was joined by several hundred people in Québec City to honour the victims of one of the worst attacks on a Muslim community in a Western nation.

Prime Minister Justin Trudeau delivers a speech during a funeral ceremony held for six people, who were killed in a shooting at a mosque in Quebec City, at Maurice Richard Arena in Montreal, on February 2. (Photo: Seyit Aydoğan/ Anadolu Agency)
More than 50 worshipers were attending evening prayers at the Grande Mosquée de Québec late on January 29, when a gunman dressed in ski mask stormed in and unleashed a barrage of bullets from a pistol and a semi-automatic rifle.
The victims included two Algerians, a Tunisian, a Moroccan and two Guineans, all holding Canadian citizenship.
Speaking during a memorial service on February 3, Trudeau said the mass shooting should give public figures pause for thought as to what words and statements they make through the press. "It's high time those behind these messages – whether they are politicians, radio or TV hosts or other public personalities – realise the harm their words can cause," Trudeau said.
The memorial service was held for Mamadou Tanou Barry, 42, Ibrahima Barry, 39, from Guinea and Azzedine Soufiane, 57, from Morocco.
"Every one of us is responsible for leading the fight against injustice and discrimination in daily life, for acting in a way that represents who we are, that represents Canada, that represents the country that Azzedine Soufiane, Mamadou Tanou Barry and Ibrahima Barry loved so much," Trudeau said. The mosque imam Hussein Guillet said the shooter was a victim of radicalisation.
"Before shooting bullets into the heads of his victims, somebody planted ideas, more dangerous than the bullets, in his head. But we want Alexandre [Bissonnette], to be the last one who will have some criminal act like that," said Guillet.
The Québec funerals came one day after memorial services were held in Montreal for Abdelkrim Hassane, 41, a father of two; 60-year old Khaled Belkacemi a professor in chemical engineering, and father of two Aboubaker Thabti, 44.
Reluctance to treat a far-right mass killer as a terrorist
The MailOnline was quick to label Alexandre Bissonnette a 'Lone Wolf' and not a terrorist
'Lone wolf' student Alexandre Bissonnette sole suspect accused of killing six at Quebec City mosque https://t.co/5ZvpojX5P9 pic.twitter.com/itrjcreJ9m

— Daily Mail US (@DailyMail) January 30, 2017

The PM's repeated insistence the shooting is a terror attack did not carry over into the courtroom, with the sole suspect escaping any terror charges, instead, Bissonnette was charged six counts of first-degree murders and five attempted murders.
And although legal experts noted the lack of terrorism-related charges will not affect the length of sentencing should Bissonnette be found guilty many commentators noted the symbolic weight of the terror charges.
Associate Law Professor at York University in Toronto, Faisal Bhabha, said it's impossible to ignore the political and social context in which the decisions to use terrorism legislations are made.
He contended that Muslim men are more likely to face terror charges than white non-Muslim male mass shooters such as the anti-Government shooter Justin Bourque, who was convicted in 2014 of killing three police officers.
Writing for The Huffington Post, Julius Haag from the University of Toronto's Centre for Criminology & Sociolegal Studies,  said, "When disaster strikes and the suspect is depicted as being either Arab or Muslim, the reflexive response is to assume that this was an act of terror driven by radical forms of Islam. But when a white person engages in a terror plot or act of mass-violence there is often official reluctance to identify it for what it is: terrorism."
He adds, "In my own research, I have found that the threat of terrorist violence by white supremacists receives only passing mention in official policy documents and does not receive the same level of media coverage as acts of terrorism associated with radical forms of Islam."
Right-Wing terrorism
The calls for Bissonnette to face terror charges were amplified by revelations that his motives were political and anti-Muslim in nature.
According to his former classmates, acquaintances, and social media accounts, Bissonnette is a supporter of France's anti-Muslim white nationalist leader Marine Le Pen, US President Donald Trump as well as the Israeli Defense Forces.
The 27-year-old is also a fan of anti-Muslim writers Richard Dawkins and Christopher Hitchens. Acquaintances said he took pro-Le Pen positions at Laval University and on social media.
Éric Debroise, who knew Bissonnette and contacted the police after the attack explained, "He really liked Trump and had a permanent grudge against the left." "He has right-wing, pro-Israel, anti-immigration political ideas," Jean-Michel Allard-Pru, another classmate, said of Bissonnette.
The Globe and Mail reported that Bissonnette "was known in the city's activist circles as a right-wing troll who frequently took anti-foreigner and anti-feminist positions and stood up for US President Donald Trump."
François Deschamps, who runs a refugee support page on Facebook, told the publication that Bissonnette was an abusive far-right internet troll "who made frequent extreme comments in social media denigrating refugees and feminism."
Multiple people who knew Bissonnette linked him to the far-right, nationalist, racist "Identitarian" movement, which is on the rise in Europe and North America.
Misleading and biased media coverage
Widely-read anti-Muslim American blogger was among many in the far-right movement  to seiz on the initial misinformation that the attacker(s) was a Muslim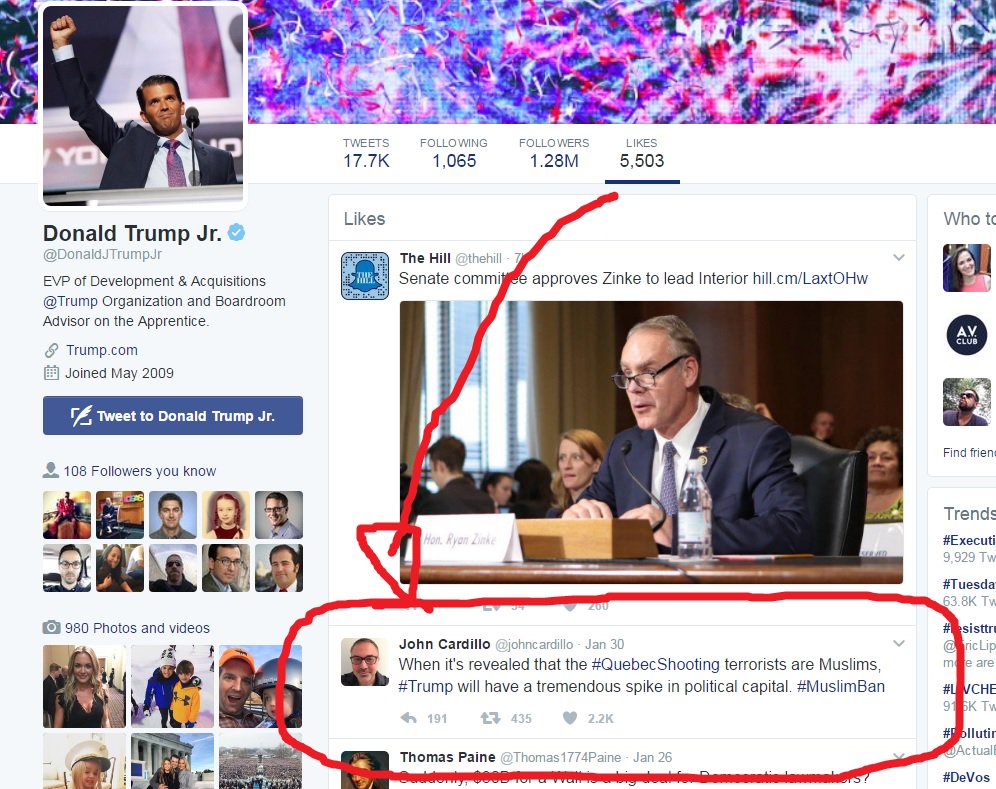 The son of the President of the US, Donald Trump Jr. He liked a Twitter post extolling the "tremendous spike in political capital" his father will receive once "it's revealed that the Québec Shooting terrorists are Muslims."
Bissonnette and a Moroccan-born good Samaritan caught up in the post-chaos were arrested within hours of the shooting, the two were quickly named by the Associated Press as Mohamed el Khadir and Bissonnette, La Presse later clarified the name of the latter is actually Mohammed Belkhadir.
Belkhadir was clearing snow off the steps outside the mosque when he heard the gunshots. The 29-year-old engineering student made the 911 call then ran into the mosque and proceeded to give first aid to an injured friend.
"It was a reflex. You can't leave people when they're in need," said Belkhadir.
Belkhadir said he fled the scene when he caught a glimpse of a gunman. "I didn't know it was a police officer – I thought it was the gunman who had returned."
He said he only realised what was going on when police ordered him to the ground.
During Belkhadir's detention, which ran for over 12 hours, much of the headlines focused on "bearded" gunmen of Moroccan origin.
Completely unsubstantiated reports of Syrian refugees gunmen and of Belkhadir shouting "Allahu Akbar" [God is Great] before spraying the mosque with bullets received blanket coverage.
By midday the next day, police who had still not released the names of Bissonnette or Belkhadir, had clarified that only one was a suspect while the other was now being treated as a witness.
Shortly after the police clarification, Fox News posted a tweet suggesting the one remaining suspect in the attack was of Moroccan origin.
Even hours after other media outlets made clear that Bissonnette was the only suspect in the case, the false tweet was still on the Fox News Twitter account and had been retweeted more than 900 times and had racked up 1,600 likes.
It was only after the office of Trudeau stepped in that Fox News was forced to apologise and retract the false tweet that inaccurately described the suspect as a man of Moroccan origin.
Trudeau's Director of Communications, Kate Purchase, sent a letter to Fox News objecting to misinformation it had put out after the attack. The Fox News tweet made no mention of the other man arrested, Bissonnette.
Purchase asked Fox News to retract or update the tweet to reflect the suspect's identity as a French-Canadian.
"These tweets by Fox News dishonour the memory of the six victims and their families by spreading misinformation, playing identity politics and perpetuating fear and division within our communities," she wrote. Fox News later apologized. In a statement, Refet Kaplan, the Managing Director at FoxNews.com, said, "We regret the error".
Among those who seized on the initial misinformation that the attacker was a Muslim was the son of the President of the US, Donald Trump Jr. He liked a Twitter post extolling the "tremendous spike in political capital" his father will receive once "it's revealed that the Québec Shooting terrorists are Muslims."
Across the pond Haras Rafiq, CEO of Quilliam Foundation, a London-based counter-extremism think tank, tweeted: "#Québecshooters named Mohamed Khadir & Alexandre Bissonnette. Appears 2 b Islamist terrorism against other Muslims #globaljihadistinsurgency".