For the 2023 advertising rates please contact:
advert@muslimnews.co.uk | 07768 241325
A D V E R T I S I N G    D I M E N S I O N S
| | |
| --- | --- |
|  PAGE | DIMENSIONS |
| (SIZE) | Height x Width (mm) |
| | |
|  F U L L | 380 x 266 |
|  H A L F | 190 x 266 |
|  Q U A R T E R | 245 x 103 |
|  Q U A R T E R | 165 x 156 |
|  E I G H T H | 122 x 103 |
|  E I G H T H | 82 x 156 |
|  S I N G L E   C O L U M N | 50 x 50 |
|  S I N G L E   C O L U M N | 80 x 50 |
2 0 2 3   C O P Y / P U B L I C A T I O N
| | | |
| --- | --- | --- |
| MONTH | COPY | PUBLICATION |
| J A N | 13.01.23 | 27.01.23 |
| F E B | 10.02.23 | 24.02.23 |
| M A R | 10.03.23 | 24.03.23 |
| A P R | 07.04.23 | 21.04.23 |
| M A Y | 12.05.23 | 26.05.23 |
| J U N | 16.06.23 | 30.06.23 |
| J U L | 14.07.23 | 28.07.23 |
| A U G | 11.08.23 | 25.08.23 |
| S E P | 15.09.23 | 29.09.23 |
| O C T | 13.10.23 | 27.10.23 |
| N O V | 10.11.23 | 24.11.23 |
| D E C | 15.12.23 | 29.12.23 |
W E B S I T E    A D V E R T I S I N G
Online advertising rates
1 month     –    £450 + VAT
Banner dimensions
Width    –   160 Pixels
Height   –   225 Pixels
Agency commission   – 10% | Other sizes/special positions by arrangement
Cost exclusive of VAT
COUNTY BREAKDOWN
| | |
| --- | --- |
| County | Readership |
| Avon | 850 |
| Bedfordshire | 1400 |
| Berkshire | 2100 |
| Buckinghamshire | 1000 |
| Cambridgeshire | 350 |
| Cheshire | 75 |
| Cleveland | 600 |
| County Durham | 550 |
| Derbyshire | 150 |
| Devon | 700 |
| Dorset | 150 |
| Essex | 1000 |
| Gloucestershire | 150 |
| Hampshire | 1300 |
| Herefordshire | 5 |
| Hertfordshire | 500 |
| Isle of Wight | 25 |
| Kent | 1170 |
| Lancashire | 13600 |
| Leicestershire | 2400 |
| Merseyside | 850 |
| Middlesex | 4800 |
| Midlands | 10300 |
| Norfolk | 125 |
| Northumberland | 5 |
| Oxfordshire | 1100 |
| Shropshire | 55 |
| Somerset | 250 |
| South Yorkshire | 1240 |
| Staffordshire | 225 |
| Suffolk | 350 |
| Surrey | 3100 |
| Sussex | 500 |
| Tyne & Wear | 100 |
| Warwickshire | 90 |
| West Yorkshire | 7500 |
| Wiltshire | 350 |
| Worcestershire | 150 |
READERSHIP DEMOGRAPHIC
GENDER BREAK-DOWN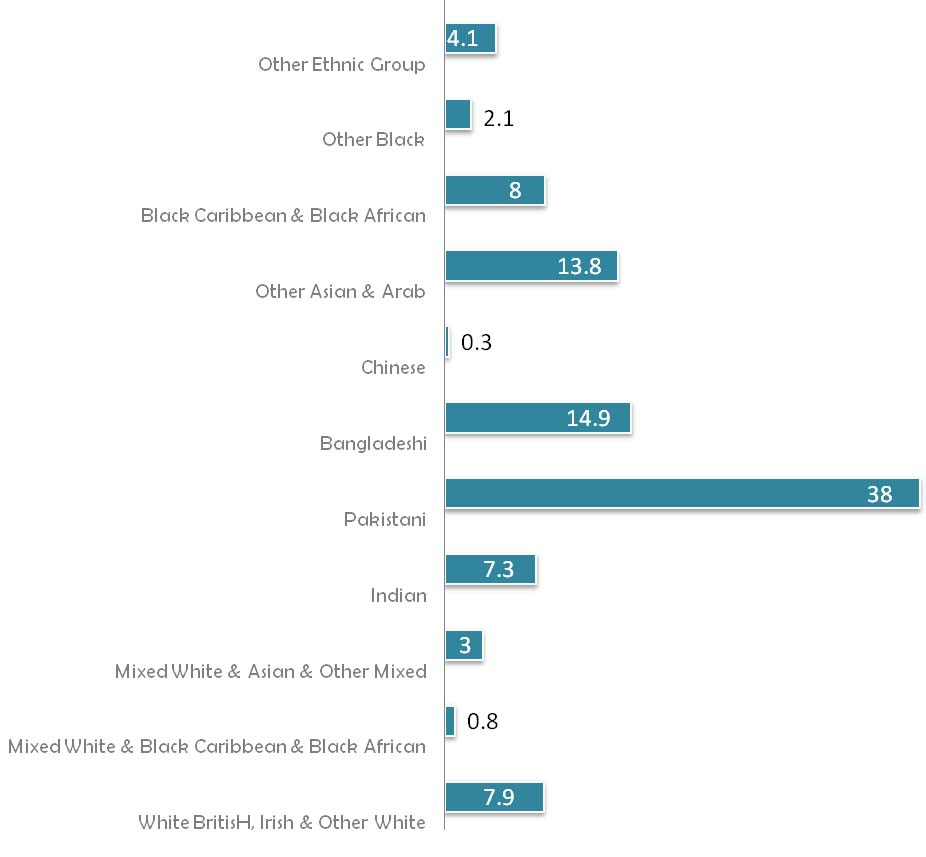 Unlike other publications that cater for a specific ethnic group, The Muslim News is aimed at the wider Muslim community. According to the Office of National Statistics, Muslims are the most ethnically diverse religious group in England and Wales. This makes any advertisers attempt to target Muslim consumers using only "Asian" or any other ethnic publications counter-productive.
The Muslim News reaches the most diverse ethnic communities: Pakistani, Bangladeshi, Indian, Kashmiri, Sri Lankan, Turkish, Turkish Cypriots, Arabs, Iranian, Malaysian, Kosovan, Bosnian, African (including Somalis), Afro Caribbean etc.
WHY TARGET THE MUSLIM CONSUMER?
Muslims are the next largest religious group in the UK with 2.7 million people (4.8 per cent of the population). Between 2001 and 2011 there has been an increase in people who identify as Muslim (3 % to 4.8%) the BIGGEST INCREASE OF ALL FAITHS. The Muslim News is available in most mosques, Islamic centres, universities, Muslim bookshops, colleges, libraries across the country and we send mail shots to over 600 mosques.
| | | | |
| --- | --- | --- | --- |
| Year | No of Muslims | Muslim (population) | Registered Mosques |
| 1961 | 50,000 | 0.11% | 7 |
| 1971 | 226,000 | 0.46% | 30 |
| 1981 | 553,000 | 1.11% | 149 |
| 1991 | 950,000 | 1.86% | 443 |
| 2001 | 1,600,000 | 3.07% | 614 |
| 2011 | 2,706,000 | 4.83% | 1,500 |
NUMBER CRUNCHING…
•    £3.6 billion the combined liquid assets of  10,000 Muslim millionaires in the UK (Datamonitor 2008)
•    £31+ billion estimated contribution to UK economy
•   £20.5 billion estimated British Muslim spending power
•  The global Halal food industry is worth $661 billion; £1billion is the estimated size of UK Halal food industry
•    84 % of all ethnic minority adults read ethnic publications
•    40% of London's ethnic minority population is Muslim (1 million)
•  £6.23 in revenue is generated for every £1 spent on print ads compared with £3.57 for  TV [Source:  A study by econometricians at Brand Science for the Outdoor OAA, 2008]
•   Research suggests that Muslims give to charity more than twice as much per capita  than the average Briton (a reported £370 vs £165). [Source: PM David Cameron @ The Muslim News Awards for Excellence March 31, 2014]
ADVERTISERS
Co-Op, CruxtonTtravel, Dahabshiil, HFA, Inclusive Ventures Group, Lidl, Medscheme, Ministry of Defence, NHS, Sainsburys, Tesco, The Salaam Centre, Toys R US

EDUCATIONAL INSTITUTIONS
Aga Khan University, Al-Mahdi Institute,  Cardiff University, College of Business Management, Coventry University, Heythrop College, King Saud University, Lancaster University, Liverpool Hope University, Oxford Centre for Islamic Studies, Tauheedul Trust, The Islamic College, University of Gloucestershire, University of Portsmouth, University of Wales, Woolf Institute
CHARITABLE ORGANISATIONS

Al-Khair Foundation, Al Muntada, Human Appeal, Interpal, IPCI, Islamic Help, Islamic Relief, Lady Fatemah Trust, Muslim Aid, Muslim Hands, Tauheedul, Ummah Welfare Trust
Did you know The Muslim News…
Began publishing in February 1989, making it the oldest Muslim newspaper in the UK
Is the only truly independent monthly Muslim newspaper in the UK. It is neither backed by any country, organization nor any political party

Provides objective news and views of Muslims in the UK and around the world
It is non-sectarian, non-partisan, inclusive newspaper
Is renowned for its authenticity of its news, and its authoritative commentary on British Muslim affairs

Reports on what is unreported by the non-Muslim media. It is pro-active and sets the vision for the Muslim community.

Has a dynamic and diverse ethnic readership including, South Asian[Indian, Pakistani, Bangladeshi, Sir Lankan, Kashmiri], Indonesian, Malaysian, Turkish, Turkish-Cypriot, Iranian, Arab, Bosnian, Kosovan, African, Afro-Caribbean, and other ethnic minorities

Readership is mainly the second and third-generation Muslims but also targets the first generation.

Is the most consulted paper in the UK on Muslim domestic and international issues by various media, institutions, academics and researchers – both Muslim and non-Muslim

Has pioneered the recognition of the Muslim community by campaigning for a British Muslim identity

In its 31 years of publication, it has highlighted some of the media's and establishment's institutionalized Islamophobia on various issues – political (both domestic and international), education, employment and religion

Highlights discrimination against British Muslims

Organized the first dialogue forum in the House of Commons between young Muslim activists, parliamentarians, ministers and opposition leaders

Organizes the pioneering prestigious annual 'The Muslim News Awards for Excellence' event to acknowledge British Muslim contribution to society, celebrate excellence
It held a landmark full-day conference on the media reporting of Islam and Muslims in September 2015. It was held jointly by The Muslim News and Society of Editors. Editors, publishers, CEOs, journalists, both print and broadcasting, from across the media participated in the conference, including newspaper and magazine regulators, The Independent Press Standards Organisation (IPSO) and Impress

The Editor, Ahmed J Versi, founded the UK Muslim Women's Sports Foundation and was elected as an executive committee member of the International Islamic Women's Games responsible for non-Muslim member states. In 2001 and 2005, The Muslim News organized teams to participate in the International Islamic Women's Games