Batley and Spen MP Jo Cox, who has been shot in Birstall near Leeds, (Photo: Michael Sercan Daventry /AA)
Nadine Osman
The husband of Labour MP Jo Cox said she was murdered for her "very strong political views".
The 41-year old mother of two was shot three times and stabbed seven times in Birstall, West Yorkshire, on June 16, before she was due to attend her constituency surgery.
Brendan Cox said the Batley and Spen MP, who was a staunchly in favour of Britain staying in the EU, believed her killing was politically motivated.
He said: "She was a politician and she had very strong political views and I believe she was killed because of those views.
"I think she died because of them, and she would want to stand up for those in death as much as she did in life."
He repeated this at the Trafalgar Square event on June 22 to pay tribute to her on what would have been her 42nd birthday that Jo's killing was political. "It was an act of terror designed to advance an agenda of hatred towards others," he said.
On June 20 judges decided that her suspected killer Thomas Mair, 52, is to face trial under terrorism rules.
Mair was not however, charged with a terrorism offense, he will be tried under the 'terrorism protocol', meaning his case will be managed by some of the most senior judges in the country.
Suspected killer's far-right links
Mair appeared in court via video from Belmarsh prison. He faces a number of charges including the murder of Cox and the possession of a firearm.
In his first court appearance at London's Westminster magistrates court on June 18, Mair, refused to give his correct address and declared his name was "Death to traitors, freedom for Britain".
Mair is named as a supporter of the London-based faction of the Springbok Club in one of the organisation's newsletters.
The club, which supports the South African apartheid regime, advocates and works towards "the re-establishment of civilised rule in Southern Africa", according to its website.
Special police units which searched Mair's house found samples of Nazi regalia and far-right literature.
According to an anti-hate campaign group in the US, Mair bought books from a US-based neo-Nazi group, including guides on how to build homemade guns and explosives.
Witness Clarke Rothwell alleged the attacker shouted "Britain first" during the attack.
Rothwell said: "He was stabbing her with a foot-long knife multiple times while shouting 'Britain first, Britain first, Britain first'."
Britain First – a nationalist, anti immigration and anti-Islam political party denied any connection to the attack.
The far right group's leader, former BNP councillor Paul Golding, claimed the attacker could have shouted "It's time to put Britain first", as he dismissed the accounts as "hearsay".
Golding said: "She has been out campaigning to keep Britain in the EU and there are people in the area that are against it. I don't think it was one of our supporters."
The movement is known to carry out 'Christian patrols' and 'invasions' of  mosques and is known for online activism.
A day after her murder, West Yorkshire Police confirmed that Cox had faced a barrage of hate mail for three months and that they were "considering" stepping up security at her constituency surgery.
Authorities were also considering putting protection at her houseboat on the Thames where she and Brendon had been campaigning for the Remain camp in the EU referendum.
A source close to Cox's said as a passionate campaigner she had "thought little of" the harassment and hate mail she had received until the "volume and frequency stepped up".
A man had been cautioned over a hate message but West Yorkshire Police have confirmed this was not the same man who was arrested following the attack.
Cox was kicked and punched outside a local library by her attacker before being shot three times and stabbed at least seven times as she lay on the pavement. A 77-year-old man, Bernard Kenny, who desperately tried to save the MP, was stabbed in the stomach.
The father Cox's assistant, Fazila Aswat, who was with her when she was attacked, has described what his daughter witnessed.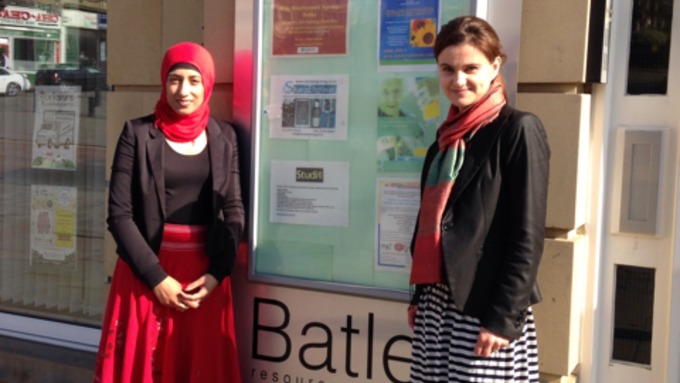 Speaking to The Muslim News Ghulam Maniyar said his daughter had helped Cox in her election campaign. "When Cox won the elections, she offered Fazila a job to join her team in her office."
Maniyar described how his daughter said that as soon as Cox had come out of her car she had "been stabbed and then shot".
He also said the assailant had "tried to go after" his daughter but then left her "and faced other people".
"He came back and shot Jo again twice", he added. Maniyar added that his daughter had held Cox in her arms to comfort her but her injuries "were very bad".
Maniyar also said: "Fazila tried to get her up but she couldn't get up because she was badly injured and seemed in pain."
The air ambulance came to take her away. "She was still alive then. Fazila was not hurt as he didn't attack her, thank God," said Maniyar.
Talking about Jo Cox, he said she was "like a daughter to me. She used to frequently come home. She helped everyone from all communities. She won the heart of the whole community. She didn't bother about who you are and what you were…When I heard she was killed, it was shocking news. I am still in shock. I still don't believe it has happened. She was such a nice person."
Tributes for Cox's humanitarian work
Cox, who was only elected into office last year, had already earned great respect for her humanitarian work.
She was passionate about Syria and Palestine. She said in February that moves by the Conservative Government to use legal threats to curtail the boycott of Israel were "a gross attack on democratic freedoms. It is our right to boycott unethical companies." She urged a lifting of the Israeli blockade on Gaza.
On Syrian issue she supported the Lord Dubs plan to bring 3,000 unaccompanied child refugees to the UK. Cox said she would "risk life and limb" if her own "two precious babies" were subject to the horrors of the Syrian civil war.
She also championed multiculturalism and used her maiden speech in Parliament to praise the positive impact immigration has had on her constituency.
"Our communities have been deeply enhanced by immigration, be it of Irish Catholics across the constituency or of Muslims from Gujarat in India or from Pakistan, principally from Kashmir," she said in the speech on June 3 last year.
Cox's husband Brendan said she would want people to "unite to fight against the hatred that killed her. Hate doesn't have a creed, race or religion, it is poisonous. Jo would have no regrets about her life, she lived every day of it to the full."
Labour Leader, Jeremy Corbyn, praised the popular MP's "deep commitment to humanity" while PM David Cameron said Parliament had lost "a great star".
US Secretary of State, John Kerry and French President, François Hollande were among those sending their sympathies
Chair of the West Yorkshire based Indian Muslim Welfare Society, Mohamed Mulla, spoke of the devastation of losing "a personal friend".
"She was inspiring and full of ambition for the constituency and was always willing to support and promote causes close to the community. She always fought for her constituents irrespective of race or faith."
A special prayer was offered at the Al-Hikmah Centre on June 17.
A spokesman for the Batley-based Rabetah Institute of Islamic scholars told The Muslim News, "Rabetah had the opportunity to work with Jo in a number of areas. She understood her community and actively sought to bridge divides. Alongside her humanitarian work, Jo made it a priority to combat hate ad Islamophobia."
Manchester Council of Mosques (MCOM) paid tribute to the loss of a humanitarian who had, "dedicated her life to public service locally within her constituency, nationally through her work in Parliament as well as internationally."
"Jo demonstrated a life of humanitarianism, she was a committed public servant who would work tirelessly and compassionately to help deliver social justice for all. One of the lessons in visiting unresolved conflict areas was as she said, 'That's the thing that all of that experience gave me – if you ignore a problem, it gets worse'," MCOM spokesman told The Muslim News.
Muslim Council of Britain, Secretary General, Dr Shuja Shafi, voiced his shock and sadness at the murder. "Jo was known for her tireless campaigning for human rights and for the disadvantaged. Her campaigning meant that she positively affected the lives of many people abroad and here in the UK as well," he said.
"She spoke up for the children of Syria and campaigned for migrants to be welcomed here. My thoughts, prayers and condolences go to Jo's young family and to her husband Brendan Cox, himself a good friend of Muslim civil society," added Shafi.