Immediate aftermath of the Indonesian earthquake and Tsunami in Petobo (Photo: Selman Tür/Anadolu Agency)
Elham Asaad Buaras
Five thousand people are feared dead from Indonesia's earthquake and tsunami that hit the Island state on September 28. The death toll from the twin disasters officially surpassed 2,000 on October 9, with most of the victims buried in mud and rubble in the hardest-hit neighbourhoods of Sulawesi island, 1,650km northeast of the country's capital Jakarta.
However, officials are still trying to verify estimates from village chiefs in Balaroa and Petobo (in the city of Palu) that 5,000 people are missing presumed dead, tripling the death toll. The country's disaster agency, the Indonesian National Board for Disaster Management (BNPB), announced that the toll had climbed to 2,010, with the majority of bodies recovered in Palu.
"Based on reports from the heads of Balaroa and Petobo, there are about 5,000 people who have not been found," said BNPB spokesman Sutopo Purwo Nugroho. "Nevertheless, officials are still trying to confirm this and are gathering data. It is not easy to obtain the exact number of those trapped by landslides, or liquefaction, or mud."
The BNPB ended the search for survivors on October 4 citing difficult terrain and advanced state of decomposition that made the bodies buried 3 metres deep, unrecognisable and could cause contaminations.
The Damage
The disaster destroyed more than 65,000 homes and buildings and displaced more than 70,000 people. The region had recorded 508 aftershocks since the  7.5 magnitude earthquake, which caused a giant wall of water that destroyed large swaths of land in Palu and surrounding areas. Aid efforts have been hampered by Mount Soputan in North Sulawesi spewing ash nearly 20,000ft into the sky.
The earthquake caused major soil liquefaction in Balaroa and Petobo where mudflows submerged many buildings causing hundreds of deaths with many more missing.
In Petobo, at least 34 students were killed, but it is suspected that many others are dead. Most of the district's 744 houses have been destroyed and 200 bodies have so far been retrieved.
Balaroa almost disappeared as the ground collapsed, with most of the village's 1,747 houses sinking into the mud. Of the 2,000 inhabitants, 600 are known to have died, while more than a thousand are still missing.
Palu's Mutiara SIS Al-Jufrie Airport was forced to close as large cracks, one of which was 500 meters long, had formed on the runway. Airport officials confirmed that the navigation system was damaged and the control tower of the airport collapsed.
An air traffic controller, who was watching the take-off roll of a Batik Air plane during the earthquake, was killed. Anthonius Gunawan Agung heroically stayed behind to help guide a passenger jet off the runway. By the time his job was done, it was too late to escape. The airport was reopened for limited operation on September 29. Hundreds of passengers were stranded at the airport.
The tsunami also caused major damage to ports in Palu. In Pantoloan Harbour, a crane collapsed and was swept by the tsunami. In Wani Harbour, structural damage was reported, while Ogoamas Harbour moved 3 cm to its right due to the earthquake.
Palu's iconic Kuning Ponulele Bridge, the country's first arch bridge was destroyed. Roads to and from the city, connecting it to Makassar and Poso, were also severely damaged. There were also reports of major landslides.
Communication to the affected area was severely hampered, with President Joko Widodo being initially unable to contact Governor Longki Djanggola. Local hospitals were damaged, with the Director of the Palu Undata Hospital opting to treat victims outside of the hospital and made a public plea for tents, medicine, canvas, and nurses. More than half of Palu prisons' 560 inmates fled in panic as the walls collapsed.
In the immediate aftermath of the earthquake, prisoners in the Donggala Penitentiary in Central Sulawesi, rioted and set the prison on fire causing severe damage.  The prisoners demanded to be met by their families and at least 100 prisoners managed to escape.
On October 13 officials reported 20 people were killed when torrential rains and flooding triggered mudslides that wiped out part of an elementary school in Mandailing Natal, North Sumatra. At least 11 of those students, according to Sutopo Purwo Nugroho of the disaster mitigation agency. Some students are still missing.
Some of the students were buried under debris and mud after the Aek Saladi river overflowed.
International aid
The US donated $3.7 million in aid, including "2,210 rolls of heavy-duty plastic sheeting" for creating emergency shelters for about 110,500 people.
On October 4, the UK Government announced it is to double donations to the Indonesia appeal. International Development Secretary, Penny Mordaunt, has pledged to match the first £2 million of public donations to the Disasters Emergency Committee's (DEC) Indonesia Tsunami Appeal.
The move will take the UK Government aid to the devastated Sulawesi region to £5 million, on top of sending a team of six aid workers and a plane full of shelters, water filters and solar lamps.
Visiting DEC headquarters, Mordaunt said: "The British public have been very moved by the plight of so many people hit by these terrible events.
"Aid Match is a chance for the British public to help directly to support people in desperate need. As well as our support through UK aid, the UK Government will match pound for pound all public donations up to £2 million."
Many international Muslim aid NGOs were quickly on the ground. Among them is Al-Khair Foundation, the third largest Muslim charity in the UK.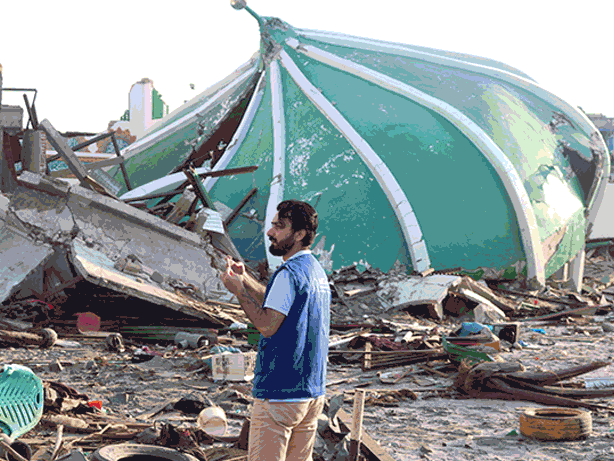 Many international Muslim aid NGOs were quickly on the ground. Among them is Al-Khair Foundation, the third largest Muslim charity in the UK (Photos courtesy of Al Khair)
A spokesman Al-Khair for told The Muslim News that it has committed to spending half a million pounds. "Food packs for 10,000 have already been distributed.  Each food pack feeds a family for a week. A needs assessment for requirements like shelter is being undertaken whilst delivering immediate humanitarian aid. Phase two will then be rolled out. The aid is being delivered by a dedicated team of 50 volunteers," said the spokesman.
Like many governmental organisations (NGOs), Al-Khair faced series of problems including, "Accessibility, remoteness, no electricity, weather, shortages, local safety of convoys and bureaucracy as so many aid agencies were involved."
Islamic Relief has launched an emergency appeal for up to $1million and in addition to the supporting the rescue efforts, they will be delivering food, water and essential household items and repairing water systems.
"There has been no electricity for three days and our partner staff have been operating in complete darkness. Thousands of people been left homeless, taking refuge wherever they can and there are huge shortages of food, water and medicine," said a spokesman for the charity.
Controversies
The BNPB ordered independent foreign aid workers to leave the quake zone on October 9 as Indonesian workers searched the rubble for survivors.
Indonesia has traditionally been reluctant to be seen as relying on outside help to cope with disasters, and the Government shunned foreign aid this year when earthquakes struck the island of Lombok.
But it has accepted help from abroad to cope with the Sulawesi disaster.
In a notice posted on Twitter, the BNPB set the rules for foreign NGOs, saying they were not allowed to "go directly to the field" and could only work with "local partners".
"Foreign citizens who are working with foreign NGOs are not allowed to conduct any activity on the sites," it said, adding that foreign NGOs with people deployed should withdraw them immediately.
A few foreign aid workers have been in the disaster zone, including a team from the group Pompiers Humanitaires Francais that searched for survivors, but they have spoken of difficulties in getting entry permits and authorisation.