Muslim Aid's "The Big Food Drive" took place at the East London Mosque in collaboration with the mosque (Photo: Sofia Buncy)
Amira Al-Hooti
Muslims collaborated with other faith groups to help the homeless during the Christmas season.
The Muslim community worked closely with Christians to help assist the homeless and Christian refugees by providing them with food and sleeping bags. The various faith communities worked across the nation from Leicester to Bradford to East London, with help received from Muslim non-governmental organisations such as Muslim Aid, Muslim Hands and Al Khair Foundation.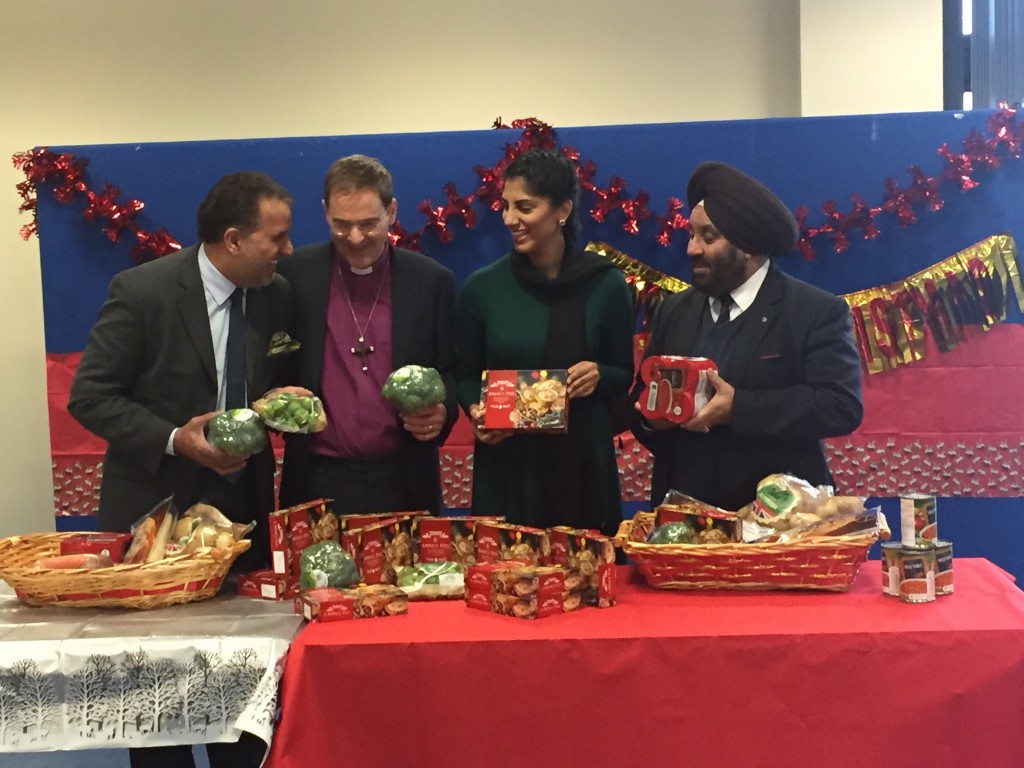 Left to right: Rafiq Seghal, Bishop Toby Howarth, Sofia Buncy, Nirmal Singh MBE
Muslim Aid's "The Big Food Drive" took place at the East London Mosque in collaboration with the mosque. Crates of food were donated to the charity by local schools, businesses and Muslims attending the Jum'ah (Friday) prayers. Ten tonnes of food was then passed on to a national charity, Crisis, which works with homeless people during Christmas.
Chief Executive of Muslim Aid, Jehangir Malik, said, "With austerity cuts and the housing crisis, more and more people are ending up on the streets destitute. We, as a Muslim charity, want to do everything we can to help the most vulnerable people in this country this Christmas, regardless of faith or background."
He also went on to express the importance of charity and compassion in Islam saying that "Helping those in need is one of the five pillars of Islam and as temperatures plummet we need to do everything we can to protect those most at risk." More than 90% of the food went to non-Muslims.
The NGO tweeted '#Muslims and #Christians team up to care for the #homeless and other vulnerable people in the run-up to #Christmas.'
Executive Director of the East London Mosque, Dilowar Khan, said: "It was heart-warming to see so many people bringing food to the Mosque and a good sign of our common humanity. We need to build on this and make sure that we support those less fortunate all year round."
The Reverend Bernadette Hegarty of St Paul's Bow Common Church said: "Giving is an important part of both the Christian and Islam faith and it is important for us to be working together to do what we can to support our brothers and sisters."
Shaykh Abdul Qayum, Chief Imam of the East London Mosque, added: "Muslims are inspired by their faith towards helping others in need. It is a religious duty for Muslims to try to help others, irrespective of a person's faith or background. This compassion is truly reflective of what Islam stands for.
"In the cold winter months when we have the luxury of a home and hot food, it's easy to forget about others that are in dire need around us. So it is in that spirit we take part in this big food drive."
Ian Richards, Head of Crisis at Christmas, said: "Every year, Crisis opens its doors to thousands of homeless people, offering a safe, warm welcome with food and companionship, as well as access to vital services and year-round opportunities.
"None of this would be possible without the generosity of our donors, and we'd like to thank Muslim Aid and the East London Mosque for their kind support. This food will help us provide a lifeline for homeless people this Christmas and bring them one step closer to escaping homelessness for good."
Each year over 43,000 people die in England and Wales due to the effects of the cold weather.
As part of their Warm Hearts Winter Appeal, Muslim Aid launched the 'rucksack challenge'. 'So far, 2,000 rucksacks have been given to homeless people', Muslim Aid said in a statement. The challenge was introduced to inspire communities to pack bags with food, sleeping bags and gloves to give away to the nearest homeless person.
A similar initiative was introduced in Bradford by Muslim Hands where people from various faiths and organisations worked together to help prepare and provide a total of 25 hampers for Christian refugee families living in the city.
Muslim Hands, which organised the campaign, worked with Bradford Council of Mosques, Khidmat Centre, the Bishop of Bradford, and West Yorkshire Sikh forum.
They worked together to provide around 90 homeless people with a meal traditional to Christmas – Turkey dinner. They gave them the necessities needed to help them through the cold winter nights with sleeping resources.
Sofia Buncy of Muslim Hands said, "Compassion and helping the needy is the common thread running through all our faiths."
"Christmas is a special time for everyone and it's awful to think people might be alone," she added.
Al-Khair Foundation, which worked with churches, also provided help to the homeless during the Christmas and New Year period. Over a hundred homeless people enjoyed hot meals and good company at the Homeless Action Christmas lunch at Woodhouse Road, Barnet, North London.
The initiative provided hundreds of meals and items of clothing to churches and other charities from Barnet to Barking.
The distribution began on December 19 with Streetlytes at St Stephen's Church in West London with hot meals for a hundred followed by another hundred meals at the Salvation Army's Booth on December 20.
"We receive lots of donations from the British community and are happy that we can give back at what can be a difficult time of year for many," said Elaine Antwi, Al-Khair UK Programmes officer.
The Foundation gave out hot meals to the homeless on January 1 at Barking Mosque in East London.
Winter essentials such as brand new socks and gloves were sent to St Mildred's Parish Church, Croydon, south London, on January 15.