Hamed Chapman
The number of Muslim MPs elected to Parliament has risen to another record of 15, boosted by the sudden and unexpected resurgence in support for Labour under the leadership of Jeremy Corbyn.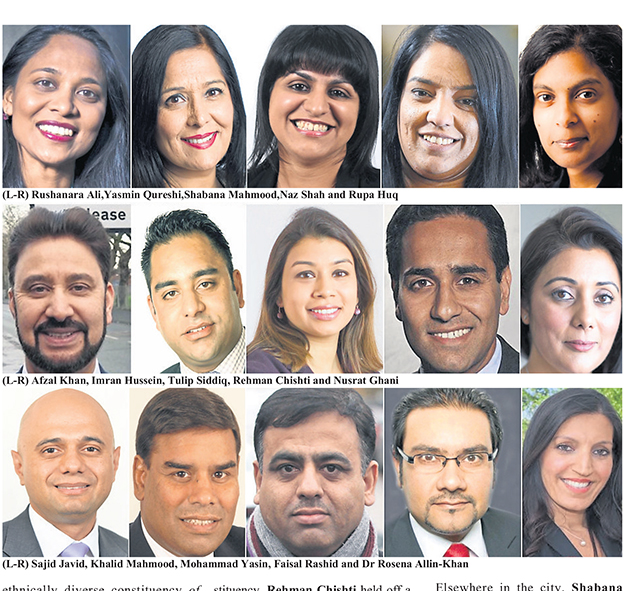 The rise saw an average increase of more than 6 percent support in votes for each of the successful candidates, which included 12 of the previous 13 incumbents being returned as well as three new faces winning for the first time. The high turnout included 12 Muslim Labour MPs being elected, up from nine in 2015. All three Muslim Conservatives also retained their seats with increased majorities as well.
Hopes that the Liberal Democrats would succeed in having their first Muslim MP elected failed to materialise, while north of the border in Scotland, the only Muslim MP, Tasmina Ahmed-Sheikh, lost her seat amid the huge collapse in support for the SNP, nevertheless, the number of female Muslim MPs remains at eight (unchanged from the 2015 general election), as Dr Allin-Khan who first won Tooting in a 2016 by-election successfully held her seat a year on.
Elsewhere it was the resurgence in support for Labour that attracted a high turnout particularly among younger voters and defied opinion polls ahead of the election when it had been expected that at least a couple of the party's Muslim MPs defending tiny majorities could have so easily also lost their seats.
London
The biggest risk was in Ealing Central & Acton where Rupa Huq had surprisingly gained for Labour in 2015 with a minuscule 274 vote majority in what was the Tories number two target seat. But instead, she increased her majority to almost 14,000 with a whopping 14.5 percent rise in the share of the vote.
The task seemed no easier for her party colleague Tulip Siddiq in Hampstead & Kilburn, who turned a majority of just over a thousand in the Tories number 11 seat to 15,560 with a slightly even more impressive 14.6 percent increase in the share of the vote.
In Tooting, Dr Rosena Allin-Khan was under pressure defending London Mayor Sadiq Khan's former seat in Tooting. It was listed the Tories target seat number 24 when it had been predicted the Tories could win at least 50 Labour seats. Her achievement was to more than double her 6,357 majority to again more than 15,000.
Over in one of the largest Muslim and ethnically diverse constituency of Bethnal Green & Bow, the fourth Muslim woman to hold a London seat, Rushanara Ali added another 11,000 vote to her already comfortable 24,317 majority in another surge in support of around 10 per cent.
Muslim MPs 1992-2017
South East
Elsewhere in the south-east, Mohammad Yasin became one of the Muslim addition when going with the Labour resurgence, took Bedford, his party's 13th target seat. Needing a 1.19 swing to take the seat from the Tories, he achieved a 6.6 per cent rise in the share of the vote, turning a 1,097 deficit into a 789 majority.
The best chance for the Liberal Democrats to have their first Muslim MP, however, did not materialise down in Sutton & Cheam. The seat was the party's number 11 target needing a 4 per cent swing but in line with a poor performance by the Lib Dems, Amna Ahmad suffered a reverse, losing by more than 12,000 votes to the Tories.
Over in Gillingham & Rainham constituency, Rehman Chishti held off a 10.5 per cent surge in Labour support with a 7.5 percent increase in his own share of the vote to hold the seat as one of three Muslim Tory MPs who were successfully re-elected.
Similar for the Tories, Nusrat Ghani in Wealden saw off an even larger 11.3 percent rise in Labour support to increase her own share of the vote by 4.2 percent and marginally increase his majority from 22,967 to 23,268.
Midlands
The third incumbent Muslim Tory MP, Sajid Javid, was reappointed to his cabinet position as Communities Secretary after holding his seat in Bromsgrove, which he first won back in 2010. He increased his share of the vote to 62 percent and maintained his 16,500 majority despite a 9.1 per cent Labour surge.
In Birmingham Perry Barr, Labour's Khalid Mahmood was elected for the fifth time with a 10.7 per cent increase in his share of the vote and a rise in his majority to over 18,000 votes.
Elsewhere in the city, Shabana Mahmood retained Birmingham Ladywood for a third time for Labour with an increase in her majority to nearly 29,000 from a rise of 9.2 per cent in her share of the vote.
Northern England
In Manchester Gorton, Labour MEP Afzal Khan added his name to the growing list of Muslim Labour MPs when holding the seat previously held by the late Gerald Kaufman. In the process, he increased the majority to a whopping 31,730 with a surge in his size of the vote to no less than 76 per cent.
Another Muslim addition was Faisal Rashid standing in Warrington South, Labour's target seat number 21. Achieving a 9.1 per cent increase in the share of the vote, he turned a deficit of 2,750 into a majority of 2,549.
All three incumbent Muslim Labour MPs in the region were defending comfortable majorities, including Yasmin Qureshi in Bolton South East. With more than a 10 per cent rise in support, she was able to increase her majority from 10,928 in 2015 to 13,126 votes.
Over in Bradford East, Imran Hussein astonishingly achieved more than a doubling in the size of his majority for Labour from 7,000 to more than 20,000 vote with a huge 18.7 per cent increase in the share of the vote following a collapse in the vote for the Lib Dems after the sacking of their former MP David Ward for controversial comments about Israel's treatment of the Palestinians.
Elsewhere in the city, Naz Shah saw off challenges including from no less than three other Muslim candidates, including former Respect Leader Salma Yaqoob in Bradford West. to also more than double her majority to almost 22,000 with a 15.1 per cent increase in her share of the vote.
Analysis from the Muslim Council of Britain showed that in the 39 constituencies where Muslim votes might have had a "high" or "medium" impact, the swing away from the Conservatives towards Labour (or Lib Dems in one seat) was on average around 15 per cent that led to 6 seats being lost by the Tories and decreased majorities in 31 of the others.
According to the Runnymede Trust, around two-thirds of BME voters supported Labour in the election based on its analysis of 75 seats, where half of all the UK's BME population lives.
EXCLUSIVE: Diversity and representation of Parliament
Faith 
•    There are 15 Muslim MPs (12 Labour and 3 Conservative) constituting 2% of Parliamentarians – the UK's Muslim population stands at 5%. There should be around 30 Muslim MPs to reflect the population.
•    There are 2 Sikh MPs constituting 0.3 % of Parliamentarians. UK's Sikh population (0.8%) is also (if not as drastically) under-represented by 3 MPs.
•    There are 8 Hindu MPs (5 Conservative and 3 Labour) constituting 1.2 % of Parliamentarians. With the UK's Hindu population standing at 1.5% , the community is adequately represented.
•    There are 24 Jewish MPs (14 Conservative and 10 Labour) constituting 3.6 % of Parliamentarians. UK's Jewish population stands at 0.4%.
*Note: The first female Sikh MP and the first turbaned Sikh MP have been elected to Parliament. Both Labour, Preet Kaur Gill, 44, will represent Birmingham Edgbaston and Tan Dhesi will represent Slough.
Black Asian Minority Ethnic (BAME)
According to The Muslim News not including Jewish MPs there are 52 BAME:
•    20 Conservative out of 315 MPs
•    31 Labour out of 261 MPs
•    1 Liberal Democrat out of 12 MPs
*Note: Parliament is the most diverse than ever before. (Updated June, 23, 2017)

Women
A record 208 women were elected, an increase by almost 9% since the 2015 election, when 191 were voted into Parliament. Labour has the most women with 119, while the Tories have 67, the SNP 12 and the Lib Dems 4. But with females making up more than 50% of the UK population, the Commons still has a way to go to truly represent the make-up of the country.