Dr Na'eem Ahmed BEM (Photo Lara Mott Selfless)
Elham Asaad Buaras
A police officer, youth workers and educators are among 25 Muslims celebrating recognition in the Queen's Birthday Honours. No Muslim has been knighted this year. They are joined by 32 members of the Hindu and Sikh communities and 13 members of the Jewish community.
Dr Samir Shah OBE, Chief Executive and Creative Director, Juniper Television was awarded the title Commanders of the Order of the British Empire (CBE) for his services to TV and heritage. He worked in the Home Office Research Intelligence Unit after graduating from Hull and Oxford Universities, before joining London Weekend TV in 1979 as a researcher, rising to become Editor of a range of current affairs programmes. Shah joined the BBC in 1987 as Head of Current Affairs, moved to head up political programmes in 1994.
Campaigners against Female Genital Mutilation (FGM) have been recognised for their work.  Nimco Ali and Dr Leyla Hussein, who were both victims of the practice as children, are to be made OBE. Often performed on young girls, the procedure, which intentionally alters female genitalia for non-medical reasons, has been illegal in the UK since 1985 but the law was strengthened in 2003 to prevent girls travelling to undergo FGM abroad.
The two women set up Daughters of Eve a decade ago, which works to protect girls and young women who are at risk of FGM. Among many other accolades, they were named two of the most influential women in the BBC Woman's Hour power list 2014, after calling for the UK Government to implement a strategy to eliminate the practice.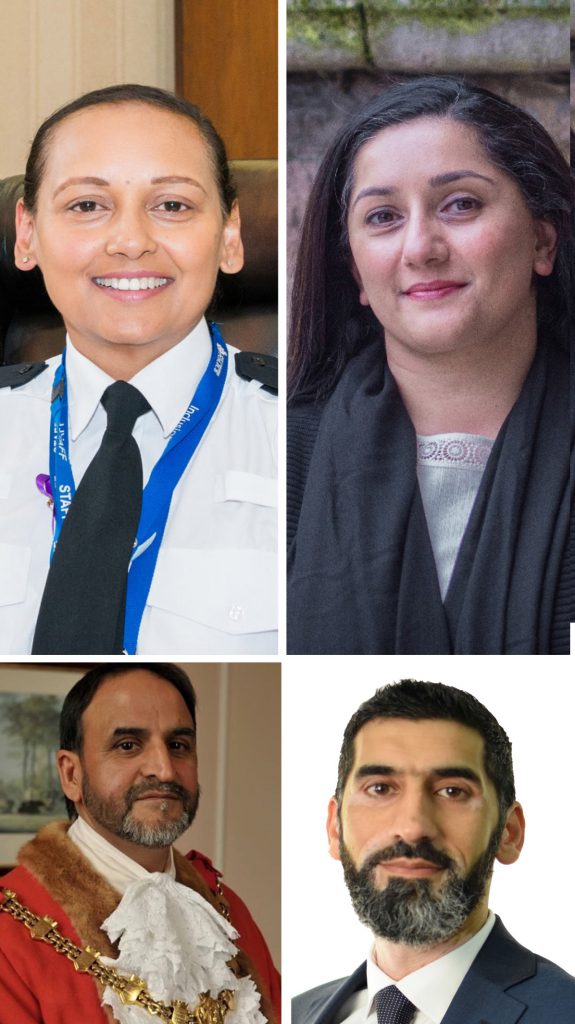 Top: PC Fiz Ahmed QPM & Tay Jiva MBE/Munsif Dad BEM & Sajid Gulzar OBE
Dr Na'eem Ahmed, Founder of Selfless, has been awarded a BEM for outstanding contribution to volunteering and healthcare. Dr Ahmed has worked for more than a decade in volunteering related projects. He began his interest in volunteering by organising a local football club, then progressed to supporting young people to find meaningful volunteering opportunities; from planting trees to providing arts and craft sessions at nursing homes.
He has worked on projects engaging students in public health promotion opportunities, establishing a diverse network of student health ambassadors to carry out health education projects to reach underserved communities in London.
Working with like-minded colleagues, Dr Ahmed spearheaded the award-winning international healthcare-volunteering programme, elective aid. Dr Ahmed has served in advisory roles to the Mayor of London's Team London, at the Department for International Development and as a Trustee at Macmillan Cancer Support. He was also named as a 'Point of Light' by former PM David Cameron. Dr Ahmed told The Muslim News, "I feel privileged to have been able to witness first-hand the life-changing impact volunteering can have on a local, national and international level."
Khalid Saifullah, Deputy Lieutenant of Lancashire and MD at Star Tissue UK Blackburn, is anointed MBE for services to the community. In 2011, Saifullah was awarded the Queen's Award for Enterprise Promotion and featured in The Guardian's annual 50 'most influential people in the North'. Khalid is a co-founder member of the Asian Image newspaper which he helped to establish in 1997. He has also helped to establish a number of community initiatives and supported some of the most high-profile charitable causes in his home town of Blackburn.
Former Adoption Team manager for charity Penny Appeal, Tay Jiva, was awarded an MBE for services to children and families. Jiva a qualified social worker with 20 years experience in the sector secured funding from the Department for Education for Penny Appeal in 2017; the funding was for promoting adoption and fostering amongst Muslim communities.
As part of the project, Islamic guidance was produced involving over 60 scholars and academic research was commissioned from Coventry University. She is currently developing 'Team Around You' an online support directory which simplifies access to support services and charities. Jiva is also partnering with ex-foster carer Raheema Bux to set up an independent fostering provider, Open Doors Fostering, which will be based in Blackburn and will cover the North West.
She told The Muslim News, "I was nominated for the MBE by a dear friend, Sonia, who grew up in foster homes and was an advisor to one of my fostering projects. Sonia has become a close and dear friend who would say I have supported her for the past few years, and yet I feel that she is a blessing in my life, who keeps me focused on the needs of vulnerable children. Sonia has overcome countless hardships to become a law graduate and carer for her mother – she is an inspiration."
Imran Sanaullah MBE
6th Naz legacy with Secretary of State Rt Hon Damian hinds MP hosted by KPMG. CEO of the Patchwork Foundation and winner of this year's The Muslim News Malcolm X Young Person's Award for Excellence Imran Sanaullah is to be made an MBE for services to young people. With the Foreign Commonwealth Office, and under the direction of the then Permanent Secretary, Sir Simon Fraser CMG, Sanaullah founded the Youth Inspiration Group in 2013.
The group raised issues and presented policy ideas from young people across the country to ambassadors and high commissioners from across the world. Sanaullah has helped to empower over 300 young people across the country. His impact has been international, as the work of the group has been replicated in Canada, New Zealand, Algeria and Croatia.
Sajid Gulzar, CEO, Prince Albert Community Trust (PACT) is one of 48 people to be honoured for services to education. Gulzar is to be made an OBE for his career which began 20 years ago as a teacher at Park Hill Primary School in Birmingham.
Following several leadership roles, he was appointed headteacher at Prince Albert in 2009. Sajid also works as a National Leader for Education, occasionally inspects for Ofsted and is also a member of the West Midlands Head Teacher Board. Since establishing PACT in 2015 Gulzar has overseen the conversion of vulnerable and failing schools into the Trust, all of which have improved significantly. Under his leadership PACT has also been successful in an application for a new free school to address the growing need for secondary school places in Birmingham.
Prince Albert High School is due to open to staff and pupils in 2021. Gulzar said told The Muslim News that the honour "isn't just for me and my family. It is for my colleagues, for the communities we serve and the children who are entrusted to us. I have had the privilege of working with the most talented and dedicated people in education over the past 20 years without whom this recognition would be impossible."
Another Muslim honoured for his work with young people is Rashid Bhayat. Bhayat, the founder and CEO of the Positive Youth Foundation, was recognised with an MBE for his services to young people in Coventry and the wider Midlands. The charity supports the most vulnerable young people across the region.
West Yorkshire Police Constable Firzana Ahmed is the only Muslim first responder to be included in the honours this year, she is to receive the Queen Police Medal. Ahmed joined West Yorkshire in 1990 and has served in Leeds and Bradford. She is currently based in Bradford, where she is highly respected for her work with communities. Ahmed told The Muslim News, "The genuine personal messages of support and congratulations pouring in was very overwhelming. My family is so proud as they know what I do behind the scenes at home. And the children are looking forward to visiting Buckingham Palace. West Yorkshire and Bradford, in particular, is such a wonderful place to work. I thoroughly enjoy being a police officer, helping and supporting others and I am honoured to have been recognised in this way".
Munsif Dad, a Hyndburn borough and county councillor, has dedicated his BEM to his wife Arshad Begum, who died earlier this year. First elected to the borough council in 2006, for Springhill and Fern Gore ward, he has also been a county councillor for Accrington West since 2013. Dad joined the Labour party in 1995. He has organised political campaigns in various elections, held the position of agent for candidates in the local elections, also was served as district agent for European, Police Commissioner and recent European referendum elections. The former Mayor spoke to The Muslim News about his pride, honour and privilege "to be recognised for my dedication and commitment politically and above all for my contributions in the community. I would like to take this opportunity to thank all those concerned in making this happen."
OTHER MUSLIMS HONOURED
OBE: Rubeela Qayyum, Treasury Accountant & Head of Exchequer Funds & Accounts, HM Treasury, for services to taxpayers, young people and social inclusion. BEM:
Asal Chaharsough-Shirazi Founder, Jeunvie Skincare & the Autoimmune Support Awareness London, for services to autoimmune disease awareness and education.
Naseem Akhtar, for services to health, fitness and sports for women in Birmingham. Shamsa Latif, for services to disadvantaged people in South Yorkshire.
MBE: Dr Abdullahi Shehu, for services to community cohesion in Coventry.
Dr Mohammad Farsi, Founder, CANopen Protocol, for services to the automotive industry, education and cultural engagement.
Dr Syed Muhammed Habib Naqvi, Policy Lead, Workforce Race Equality Standard, NHS England, for services to equality and diversity in the NHS.
Emdad Hossain Talukder, Community Resource Officer, Tower Hamlets Social Services Family Placement Services and Foster Carer, for services to fostering.
Ghulam Mohammed Vohra, Vice Chair, Coventry Muslim Forum, for services to community cohesion.
Raheem Luqmaan Mu Khepera, Work Coach, Dept for Work & Pensions, for services to young people in Haringey.
Rashid Mustapha, for services to radio broadcasting.
Saira Wajid, Head of Engagement, Museum of London, for services to culture and diversity.
Syed Muhammad Iqbal Nasim, for services to community development and to tackling poverty. CMG:
Moazzam Tufail ​Malik​, HM Ambassador, Jakarta, Indonesia, for services to British foreign policy & international development .