Sarmad Hasan
At least three masked gunmen opened fire on worshippers in the Ahsa Mosque, in al Dalwah village in al Ahsa region, Saudi Arabia, on November 3. Seven worshippers, including three children, were killed. Several others were injured. Abdul-Aziz Aal Shaykh, a senior Saudi Arabian Mufti, condemned the shooting. He said that the attacks were committed by "hypocrites" trying to "[U]ndermine the brotherhood [between Shi'a and Sunni Muslims] of the Muslim world." He also said that killing Shi'a Muslims was "haram" (forbbiden).
Continued…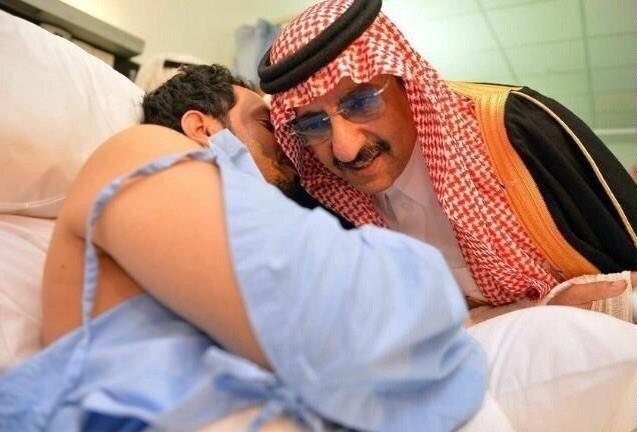 Saudi Arabia's, Interior Minister, Muhammad bin Nayef  visits victims in hospital

Saudi Arabia's, Interior Minister, Muhammad bin Nayef consoles a child of one of the victims
The gunmen escaped. The following day Saudi Arabian security forces identified suspects and were granted warrants to arrest them. However, when they attempted to arrest them, clashes erupted between the gunmen and the security forces. Two Saudi security officers were killed.
Saudi Arabian officials said that they killed one of the gunmen and arrested six suspects.
The seven worshippers who were killed were all Shi'a Muslims. They were attending a mourning session for the death of Imam Husayn, the grandson of Prophet Muhammed.
The Shi'a Muslim community was shocked as this was the first time they have been targeted like this in Saudi Arabia.
Three days following the killings, to the surprise of everyone, 250,000 Sunni and Shi'a Muslims turned up from all over Saudi Arabia to attend the funeral.
Some came from as far away as Makkah, 1,200 km away.
The crowds chanted, "Sunnis and Shi'as, we are brothers" and "We Sunnis and Shi'a stand together."
The crowds held up pictures of the two (Sunni Muslim) security officials who were killed trying to arrest the suspects. Authorities in Saudi Arabia saw this as a positive sign of solidarity by the country's Shi'a Muslim population.
Saudi Arabia's Interior Minister, Muhhamed bin Nayef, visited the families of the dead to offer his condolences.
Nayef offered 500,000 SR compensation to each of the families who had a family member killed. That is equivalent of £85,000, or five years wages of a Saudi civil engineer.
Reports in the Saudi Arabian media, quoting unidentified security officials, said that the unnamed leader of the cell who organised the killing fought for terrorists groups in Iraq and Syria. He "snuck" into Saudi Arabia unidentified to organised attacks in the country.
This attack is of particular concern to Saudi Arabian security forces. The leader of the Islamic State of Iraq and Sham (ISIS), Abu Bakr al-Baghdadi, recently called on his followers to attack Saudi Arabia.
A significant percentage of ISIS' suicide bombers are of Saudi Arabian origin. Security forces in Saudi Arabia are on alert for further such attacks.
Following the attack a senior Shi'a Muslim scholar, Makaram Shirazi, added to the chorus of other Shi'a Muslim scholars by saying, "Cursing senior Muslim historical figures is not part of the Shi'a faith."
The Shi'a Muslim population of Saudi Arabia make up approximately 15% of Saudi Arabia.
Follow the author of this article on Twitter Follow @8Sarmad