Elham Asaad Buaras
The Taliban's attack on a Peshawar school which killed 132 school children has drawn worldwide condemnation. The Tehreek-e-Taliban Pakistan (TTP) took credit of one of the deadliest attack in Pakistan's history on December 16. The attack left in total 141 people dead and 124 people with life changing injuries. Taliban fighters stormed a military-run school in Peshawar, Pakistan, and murdered at least 148 people
All seven TTP attackers were killed. A TTP spokesman said the school, which is run by the army, had been targeted in response to military operations. Hundreds of Taliban fighters are thought to have died in a recent offensive in North Waziristan and the nearby Khyber area.
The school is part of the Army Public Schools and Colleges System, which runs 146 schools nationwide for the children of military personnel and civilians. Its students range in age from around 10 to 18.

Hospital security guards carry school children injured in the shootout
Witnesses described how a huge blast shook the school and gunmen went from classroom to classroom, shooting children. Distraught parents crammed the Peshawar's Lady Reading Hospital in the immediate aftermath of the attack, weeping as children's bodies arrived, their school uniforms drenched in blood.
The attack drew worldwide condemnation, including from British Prime Minister, David Cameron, who said, "The scale of what has happened in Pakistan simply defies belief. It is a dark, dark day for humanity when something on this scale happens with no justification."

Some of the 132 school children killed in the Peshawar attack

Leader of the Opposition, Ed Miliband, added his voice to the outrage, saying: "Appalling that school children were targeted in this murderous attack."
Condemning the attack, Shadow Justice Secretary, Sadiq Khan, said, "Sadly we are again reminded of the tragic battles fought by children simply for going to school."
US President, Barack Obama, said, "By targeting students and teachers in this heinous attack, terrorists have once again shown their depravity".
Neighbouring India joined in voicing its disgust. Schools across the country joined in the show of solidarity following PM Narendra Modi's appeal to observe two minutes silence over the attack. Modi called his Pakistani counterpart Nawaz Sharif to offer condolences.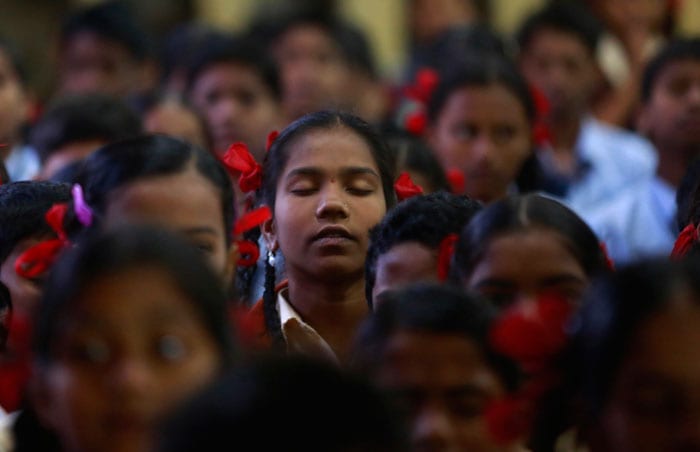 Indian schoolgirls offer prayers for victims killed in a Taliban attack

Indians hold vigils for the victims of the attack
"India stands firmly with Pakistan in fight against terror. We are ready to provide all assistance during this hour of grief," he said.
Turkey declared a day of national mourning for the dead.
Iranian Foreign Ministry Spokeswoman, Marzieh Afkham, said, "This is a totally un-Islamic and inhumane act. Terrorism, extremism and endangering the lives of innocent people, in any form and with any objective, is condemned."