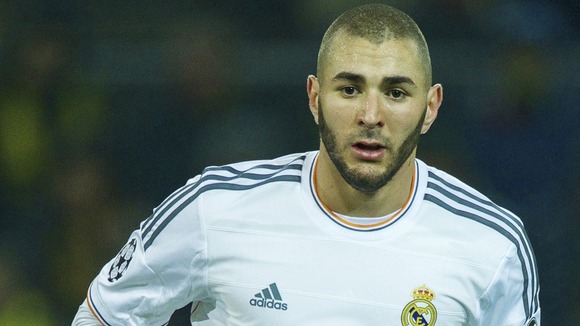 Liverpool and Arsenal's hopes of signing Karim Benzema have in creased after he revealed he may consider a move away from Real Madrid
ATHLETICS
Mo Farah has confirmed his intention to compete at the Indoor Grand Prix in Birmingham in February. It would be the double Olympic, world and European champion's seventh time of competing at the event as he uses the meeting to test his fitness at the start of a year in which he will hope to successfully defend his world 5000m and 10,000m titles in Beijing.
BOXING
Amir Khan says that should he beat Devon Alexander on Dec 13 he would rather fight unbeaten Floyd Mayweather than the Philippine Manny Pacquiao. One of the two super-fights could await Khan next year if he prevails against Alexander in Las Vegas, and for Khan, beating Mayweather would be a bigger deal than overcoming former sparring partner Pacquiao.
"Obviously Mayweather is unbeaten. Pacquiao in his last few fights has been beaten, Khan told The Independent. "If you beat Pacquiao people are going to be like he got beaten in his last few fights anyway, whereas if you beat Mayweather who's undefeated, I think that'd be a massive win."
CRICKET
India and Pakistan will resume their cricket ties with a series next year, Pakistan's High Commissioner to India Abdul Basit announced November 16. He said six series will be played between two countries till 2022. "Work has already been done in this regard," he told reporters.
Bangladesh have continued to make improvements in the Test Player Rankings following their 186-run third victory over Zimbabwe in the third Test in Chittagong on Nov 16.
In the Reliance ICC Player Rankings for Test Batsmen, Mominul Haque moved up 14 places to a career high 19th position after scores of 48 and 131 not out while team-mate Tamim Iqbal climbed three places to 34th thanks to his knocks of 109 and 65.
For Zimbabwe, Sikandar Raza was the highest mover, up 24 places to 62nd position after completing innings of 82 and 65 in his side's defeat. His team-mate Hamilton Masakadza climbed to 39th (up by five) following his innings of 81 and 38 to achieve his highest ranking to date, while Regis Chakabva moved up 24 places to a career-high 68th.
In the Reliance ICC Player Rankings for Test Bowlers, Shakib Al Hasan remains Bangladesh's highest ranked bowler in 16th position, but leg-spinner Jubair Hossain is the biggest mover in the rankings with a staggering 55-place jump to 58th place after claiming combined match figures of seven wickets for 152 runs. Bangladesh's Shakib remains the number-one player on the All-Rounder Rankings after scores of 71 and 17 in the third Test, while he also chipped in with a wicket to extend his lead over India's Ravichandran Ashwin to 41 points.
FOOTBALL
Equatorial Guinea has agreed to the Africa Cup of Nations next year after Morocco refused, citing fear about the possible spread of Ebola, having co-hosted the continent's biennial championship in 2012. Equatorial Guinea will also replace Morocco in the 16-team field, despite being thrown out of the tournament in July for fielding an ineligible player in a match against Mauritania. The Confederation of African Football, expressing "thanks and deep appreciation," announced on Nov 14 that the 2015 Cup would be held from Jan 17 to Feb 8 in four cities in Equatorial Guinea.
The World Cups of 2018 and 2022 are set to go ahead in Russia and Qatar as previously scheduled, said FIFA says. FIFA's Ethics Committee said in a report on Nov 13 that it could find no grounds for reopening the controversial bidding process for the upcoming tournaments. "The various incidents which might have occurred are not suited to compromise the integrity of the FIFA World Cup 2018/2022 bidding process as a whole," according to the report.The report also criticised the UK's bid for the 2018 tournament as an "apparent violation of bidding rules" over "inappropriate requests" by former FIFA vice-president, Jack Warner, who was the powerbroker for England in its attempt.
Manchester City coach Manuel Pellegrini has denied that the club is looking to offload Ivory Coast midfielder Yaya Touré and suggested that the rumours about his exit may be an attempt to unsettle the Premier League champions. "There have been a lot of reports telling [the story] that Yaya will be sold. Maybe all that comes from other clubs who want to see our squad weaker. Yaya is a very important player," Pellegrini told reporters.
Transfers: Liverpool and Arsenal's hopes of signing Karim Benzema have increased after the France international has revealed he may consider a move away from Real Madrid. Despite already scoring 11 goals with six assists this term, Benzema is considering his future in Spain after becoming unsure if Madrid see him as a long-term option. He was also unhappy with president Florentino Perez's pursuit of Luis Suarez before Suarez joined Barcelona. Liverpool have been keen to sign Benzema this season as they look for another star striker to fill the void left by Suarez. This has become even more important considering that Mario Balotelli's season has yet to take off since his £16million move from AC Milan. However, Arsenal's Arsene Wenger has also set his sights on Benzema to increase his attacking options despite brining in Alexis Sanchez and Danny Welbeck this summer.
SQUASH
World Championship, Qatar – Egyptian trio Ramy Ashour, Amr Shabana and Mohamed Elshorbagy have sealed passage to the quarter-finals of the World Championship in Qatar. Three more Egyptians were ousted, with Fares Dessouki losing 3-1 to Spain's Borja Golan, Tarek Moemen losing 3-2 to South Africa's Stephen Coppinger and Omar Mosaad losing 3-1 to Frenchman Gregory Gaultier. World number one Elshorbagy of Egypt, who won the US Open last month, secured a hard-fought win over Germany's Simon Rosner, beating him 3-1 in 62 minutes. Shabana, the world's number four, beat Swiss Max Lee 3-0 while world number five Ashour overcame Colombia's Miguel Angel Rodriguez with a 3-1 win.
TENNIS
Sania Mirza became the first Indian woman after racing to a historic doubles triumph in the season finale – the WTA Finals – in Singapore on Oct 26. Mirza who partnered veteran Zimbabwean Cara Black to the title in her maiden appearance at the event, said: "I've always had great support from my family, my parents in particular. My mother, who is here with me, has been my lucky charm. My state Telangana has also been very supportive." Mirza and Black, trounced their opponents, Taiwan's Hsieh Su-wei and Peng Shuai of China – the second seeds and defending champions – 6-1, 6-0 in just under an hour. Mirza also became the first Indian, man or woman, in almost four decades to win the season finale. The first and only previous Indian to win the title was Vijay Amritraj in 1977, when he won the men's event alongside American Dick Stockton.
WEIGHTLIFTING
World Championships: Kazakhstan Almaty, Kazakhstan (Nov 8–16) – Muslim Medalists – Men: 69kg: Mohamed Ihab, Egypt, silver. 85kg: Kianoush Rostami, Iran, gold. 94kg: Zhassulan Kydyrbayev, Kazakhstan, gold. 105kg: Ilya Ilyin, Kazakhstan, gold & Ruslan Nurudinov, Uzbekistan, silver. +105kg: Ruslan Albegov, Russia, gold, Behdad Salimi, Iran, silver & Mohamed Ihsan, Egypt, bronze. Women: 48kg: Sibel Özkan, Turkey, silver. 53kg: Zulfiya Chinshanlo, Kazakhstan, gold. 69kg: Zhazira Zhapparkul, Kazakhstan, silver.