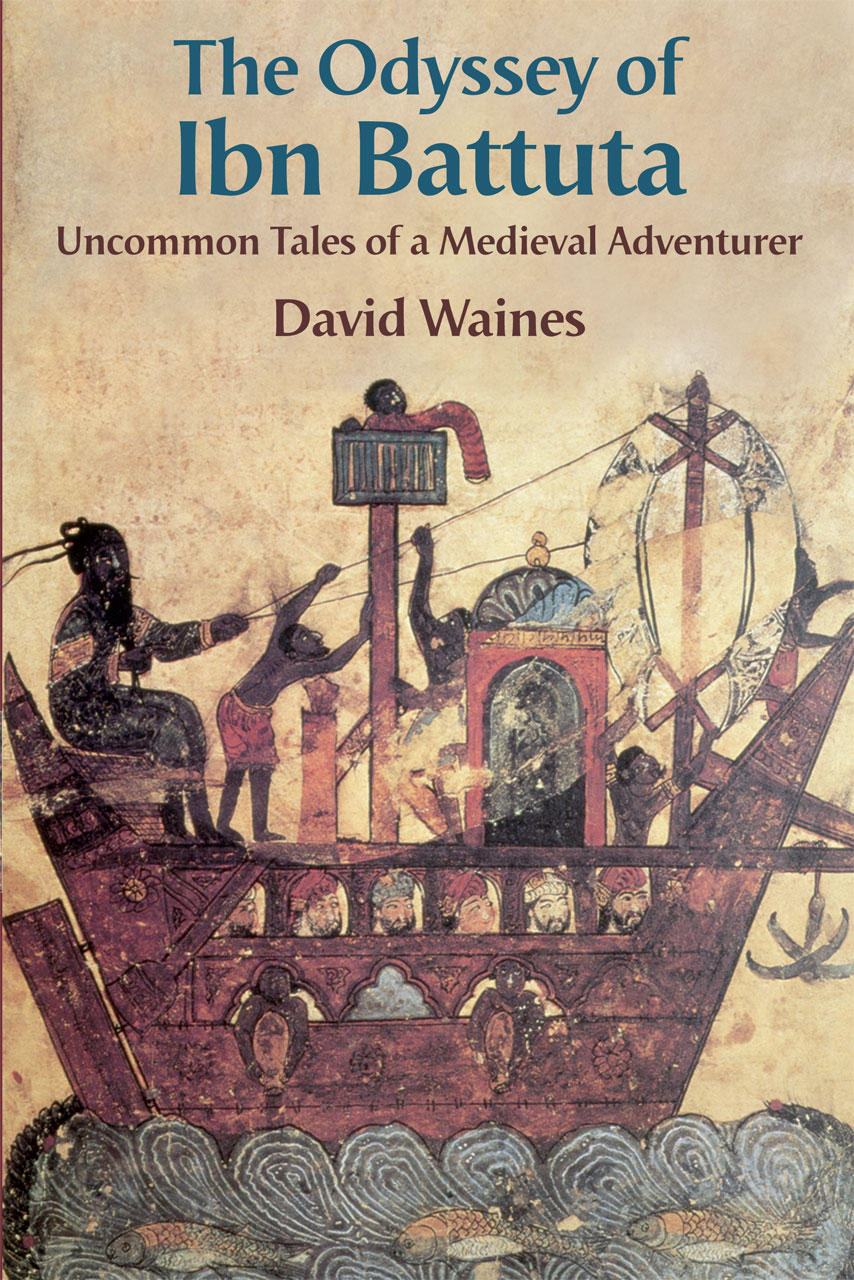 The Odyssey of Ibn Battuta: Uncommon Tales of a Medieval Adventurer. By David Waines. London: I. B. Tauris. Pp226. PB. 2012.
Born in 1304 in Tangier (in present-day Morocco), Abu Abdullah Muhammad ibn Abdullah ibn Muhammad ibn Ibrahim al-Luwati, better known as Ibn Battuta, is today considered to be one of the world's greatest travelers and explorers. No other medieval traveller (including Ibn Jubayr of Muslim Spain or Marco Polo) travelled for so long and covered such distances as did the indomitable Ibn Battuta. Indeed, his achievements remained unbeaten until steam engines were invented in the eighteenth century.
Ibn Battuta was aware of his remarkable achievement. In his own words, 'I have indeed – praise be to God – attained my desire in this world, which was to travel through the earth, and I have attained in this respect what no other person has attained to my knowledge. The world to come remains, but my hope is strong in the mercy and clemency of God, and the attainment of my desire to enter the Garden of Paradise.'
As a devout Muslim, Ibn Battuta completed his early education in his native city before setting out for Makkah with a view to performing the sacred Hajj (pilgrimage).
During his stay in Makkah, he pursued advanced training in Islamic sciences specialising in Islamic jurisprudence and eventually received certification (ijaza) in this subject from some of Makkah's leading scholars.
Mingling with pilgrims from other parts of the then Muslim world and hearing stories about their homeland and its people convinced Ibn Battuta to travel and explore the world rather than return home to Tangier where he could have occupied a prominent position as an Islamic jurist (faqih). His travels took him to places as far as Yemen, Turkey, Syria, Palestine, Egypt, Iraq, Eastern Europe, India, Sri Lanka, Bangladesh, Maldives, China, Central Asia, Indonesian island of Sumatra, parts of Africa including Niger, and of course Spain.
In total, he covered more than 75,000 miles on foot, riding mules, travelling by boat and caravans. Eventually he returned to Fez at the age of fifty and by royal order dictated his travel accounts to Sultan Abu Inan's personal secretary, Muhammad ibn Juzayy, under the title of Tuhfat al-Nuzzar fi Ghara'ib al-Amsar wa Aja'ib al-Asfar (Gift to Observers, Dealing with the Curiosities of Cities and the Wonders of Travels).
Although this great Muslim traveller died at the age of around seventy-four, his Rihla (Accounts of Travel) became very famous across the Muslim world and it was later translated into many languages including English.
In the book under review, David Waines, Professor Emeritus of Islamic Studies at Lancaster University, hopes to introduce Ibn Battuta to the uninitiated by thematically arranging tales from the Rihla to throw fresh light on different aspects of his life, travels and adventures.
In Chapter One, the author seeks to place medieval travellers like Ibn Battuta and Marco Polo in their context by evaluating their works and activities, touching on criticisms aimed at them. The remaining chapters of the book focus on food, hospitality, travel, sacred places and 'other' topics like women. All of the topics being projected through the life and travels of Ibn Battuta.
Although Ibn Battuta never explained or explored the topics in a systematic way in his Rihla, the author has successfully managed to gather sufficient information from his Accounts of Travel to provide a vivid picture of medieval life, culture, custom and traditions in many parts of the world.
The author used existing English translations of the Rihla with some modification, where appropriate, to prepare this volume rather than render the tales from the original Arabic manuscript. This is a valuable contribution and I very much enjoyed reading it. Recommended reading during the holiday period.
Muhammad Khan. Acclaimed author of The Muslim 100 (2008) and The Muslim Heritage of Bengal (2013).