Elham Buaras
UKIP became the butt of online jokes after a member running one of its regional twitter accounts mistook Westminster Cathedral for a mosque earlier last month.
The embarrassing twitter exchange between the BBC and the UKIP member prompted the party to announce that its member is no longer on twitter.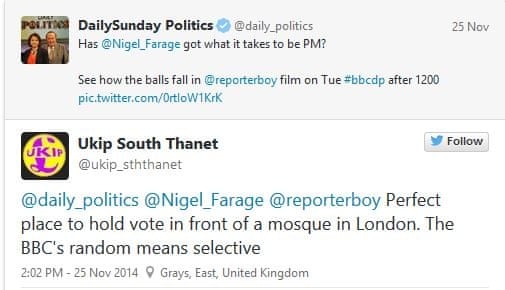 A Tweet by UKIP's South Thanet Branch was ridiculed online
UKIP's South Thanet Branch replied to a tweet from the BBC's Daily Politics show on November 25, deriding the shows location the tweet read; "Perfect place to hold a vote in front of a mosque in London. The BBC's random means selective."
In reply BBC reporter Giles Dilnot tweeted: "You are SO wrong you might be embarrassed by that."
However, UKIP South Thanet demanded the location of the building, at which Dilnot pointed out it was being held in the most famous Cathedral Britain, Westminster Cathedral.
The mistake has prompted a flurry of activity on twitter, with the #NotAMosque and #ThingsThatAreNotMosques trending nationwide to point out other things that are not mosques, including Hagia Sophia in Istanbul, a turnip, the Teletubbies, a Moose and a Mosquito.
UKIP's South Thanet Branch Chair Martyn Heale said: "The twitter account was run by a long-standing member of the branch but someone else is now running it. That member is no longer on twitter. It may have caused a bit of offence to somebody somewhere but people make mistakes and the person responsible will probably apologise."