Elham Asaad Buaras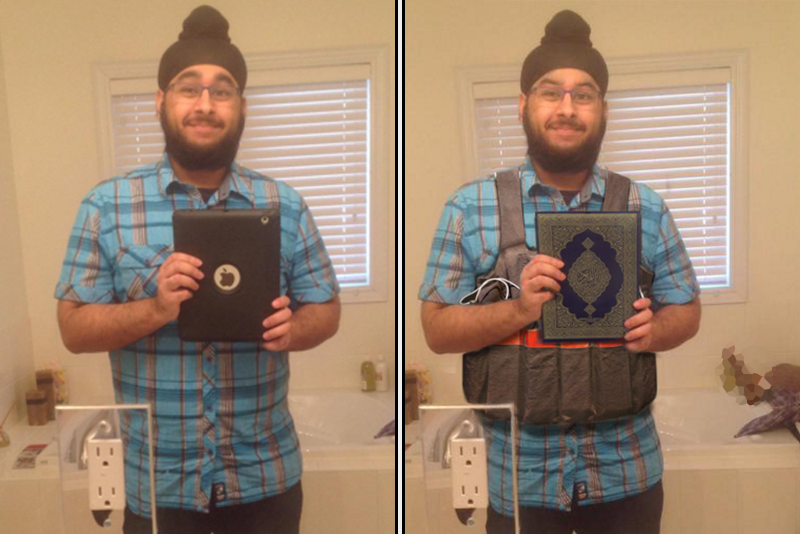 A young Canadian Sikh man spoke of his fears after media outlets used a doctored Selfie depicting him as one of the Paris terrorist attackers.
Many of those using the photograph of Veerender Jubbal, including journalists, failed to realise the viral image had been photoshopped.
Jubbal's original Selfie shows him in a bathroom, wearing his turban, an important part of the Sikh religion.
The altered image shows him wearing a vest with what appears to be explosives and his iPad has been made to look like a Qur'an.
Jubbal has asked for people to tell him about any publications which are still using the photoshopped image to suggest he is a "terrorist".
And some mainstream newspapers even repeated the smear, including the front page of the Spanish daily, La Razón and the Italian network SkyTG24's also tweeted the photoshopped image to its 1.98million followers.
La Razón apologised for its mistake. But in a series of tweets, Jubbal explained the damage to his reputation had already been done.
Jubbal is now worried about the fake image, which has been seen by people all over the world, could put his life at risk, forcing him to tweet: "This whole thing puts me in a bad position in the sense, where I could be harmed and/or hurt due to this. This is libel from news, and TV."
Several European outlets picked up the image, and it even made its way onto the some unofficial social media channel ISIS used to claim responsibility for the Paris violence, according to CBC News.