Elham Asaad Buaras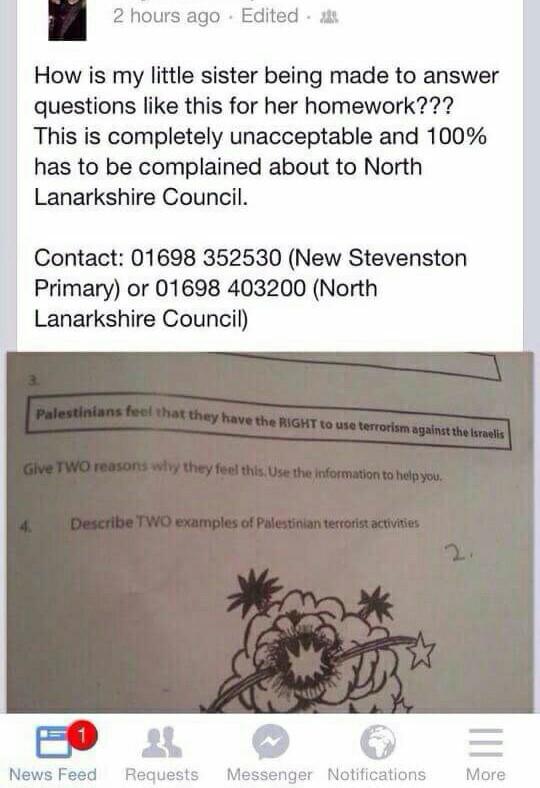 A Scottish Council was forced to apologise after one of its primary schools assigned homework to11 year-old children describing Palestinians as "terrorists".
The assignment, which is part of the social studies programme, went viral after it was handed to Year 6 pupils at New Stevenston Primary, which is run by North Lanarkshire Council.
The assignment reads; "Palestinians feel they have the right to use terrorism against Israelis" and asks pupils to give two reasons for this. The homework also asks pupils to "describe two examples of Palestinian terrorist activities."
In the accompanying information pupils are told that: "Palestinians have turned to terrorist methods for over 30 years."
It adds: "Recently terrorists have carried out suicide bombings on buses and public places. They are respected by their own community as martyrs. A solution to this extremism is hard to find."
It also refers to the Munich hostage crisis where nine Israeli athletes were killed during the 1972 Olympic Games.
Teachers at the Motherwell school have already held a meeting with parents over the worksheet.
Association of Palestinians Communities in Scotland (APCS) condemned the council.APCS Chair, Issam Hijawi, said he was "shocked" by the assignment.
"We are calling for this to be withdrawn immediately and we want to have a meeting with the education department at North Lanarkshire Council to discuss how this situation arose. It is unbelievable that they are giving 11-year-old pupils information asserting that our struggle for freedom is pure terrorism. The questions are not only biased but they are contradicting the legal framework of the Palestinian cause."
He added "We also ask that all materials used in schools relating to the teaching of the history of Palestine is discussed between Education Scotland and the Palestinian community.
"At a time when Muslims are being demonised for the actions of a tiny minority, our children need to gain a proper understanding of the occupation of Palestine and learn compassion rather than fear and hatred."
The issue came to light after the sister of a pupil at the primary school posted about it on Facebook.
Aliyah Shafiq posted a copy of the homework on her facebook and wrote: "How is my little sister being made to answer questions like this for her homework? This is completely unacceptable and has to be complained about to North Lanarkshire Council."
The original image has been shared hundreds of times and the council has been inundated with complaints.
A spokesman for North Lanarkshire Council's Learning and Leisure Services told The Muslim News the homework was part of a now obsolete teaching pack and that they "are contacting all schools to ensure this particular material is no longer used. The description of Palestinian people is entirely inappropriate and apologise unreservedly for the offence caused."
The council also said this was an "isolated incident" and that they not aware of any other school using the material. But said it was in the process of contacting all schools within its area to ensure that the worksheet would no longer be used.