Aishah Ali
New counter terrorism rules expects teachers to be "front-line storm troopers" spying on their students suspected of extremism, a teaching union conference heard. The National Union of Teachers (NUT) conference April 3 to 7 in Harrogate warned that the Prevent extremism strategy is "shutting down debate" in schools and "demonising" Muslim pupils.
The conference heard how teachers are becoming reluctant and worried to discuss particular issues such as "Islamic" fundamentalism. In certain circumstances teachers could face prosecution if they fail to alert the police to any concerns they have about pupils. NUT member Jan Nielsen, Wandsworth, south-west London, said: "We have to be clear that we are being put in the position where we are really being expected to be the frontline storm troopers, who listen, who spy, and notify the authorities about students that we may be suspicious of."
Youngsters feel censored and unable to express opinions on controversial topics for fear of being branded as an extremist. Jan Nielsen spoke about a recent case where a student had come under suspicion and was pulled in after Friday prayers because children were talking about extremism as they left the prayer room, despite the fact that the boy had put a strong argument against children joining "jihadi" groups.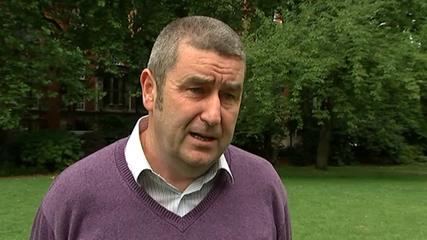 Alex Kenny from the NUT says that the Prevent strategy will damage debate in schools

Union Executive Alex Kenny said: "We live in a damaged and volatile world, and like us, young people are trying to make sense of it, like us, they're trying to come to conclusions about cause, effect and solutions, and like us they want a space to discuss it."
"Schools are places where that discussion, on ethical and political issues should take place, in an environment of enquiry, and it may be an environment where young people say things we don't like, or say things that concern us that we want to address with them, that we want to discuss with them."
He added that the Prevent strategy was a "blunt instrument that will do damage and inhibit debate in schools," adding that Ofsted inspection should be allowed "nowhere near these issues."
Education watchdog Ofsted under recent guidelines now checks that schools are actively promoting "British values" like tolerance, freedom, democracy, and rule of law.
Baljeet Ghale, a former President of the Union, said: "What makes these values uniquely British and not what you would find supported by people of other cultures and countries?" She explained that there is an element of racism in suggesting these values were uniquely British as it suggested that "one culture's values are superior to another's."
"I am proud to be a Londoner, I am proud to be a Kenyan, I am proud to be an Indian and I am proud to be a member of the NUT," she said.
NUT delegates called for schools to be removed from the Prevent strategy and for Ofsted to be stripped of its role in inspecting whether schools were promoting British values.NUT motion said that, "The Government's promotion of British values, the Prevent agenda and the use of Ofsted to monitor these is having the effect of closing down spaces for such discussion and that many school staff are now unwilling to allow discussions in their classroom for fear of the consequences."
Vendathal Prekumar, from Redbridge, said the requirement to teach British values was "damaging and dangerous".
"What are British values anyway?" she asked. "They are universal. After centuries of imperialism, the habit of claiming ownership of things that aren't yours must be a difficult habit to drop."
She added that forcing teachers to "teach British values is an attempt to scapegoat children" and "Muslim students in particular" so "the Government can look like they are being tough on terror and immigrant communities who do not fall into line."
She argued that "Muslim kids are being demonised. We have seen this happen in Birmingham and Tower Hamlets where Muslim students are being turned into suspects."
The "Trojan Horse" affair last year, alleging an Muslim take over plot of several Birmingham schools, had placed 21 schools under investigation and five put into special measures. Despite the controversy and Ofsted's damning verdict last month the Commons Education Select Committee's report into the affair concluded that there was no evidence. Committee Chairman, Graham Stuart, said: "One incident apart, no evidence of extremism or radicalisation was found by any of the inquiries in any of the schools involved. Neither was there any evidence of a sustained plot, nor of significant problems in other parts of the country."