Hassan Joudi
A group of 80 Christian and Muslim young people called for dialogue as a means to grow in mutual understanding and build bridges, as they met for a residential event at the Centre for Unity in Welwyn Garden City on February 13 to 15.
The event titled "Multiculturalism, Interfaith, Dialogue: #DoYouCare?" was organised by the Focolare Movement, an international movement inspired by the gospel. The young adults engaged in workshops on a range of topics including interfaith dialogue, social media and politics and civic engagement.
"I'm very happy to be here," said 26 year-old Mohammed Mozaffari, a member of Islamic Unity Society from London. "I'm personally interested in interfaith dialogue and was eager to get to know Focolare. Since coming, it has been very refreshing to meet people who are so passionate about living and working for God."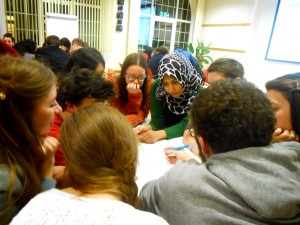 Lucia De Santis, 22, a student involved with Focolare through the group Youth for a United World, said: "It made me realise that our differences are not an obstacle but an aid to build something together, and discover that we have so much in common."
During the weekend the group heard from presenter and documentary producer Angela Graham, who has worked with BBC Wales, Channel 4 and ITV among others. She spoke of her own experience as a young person growing up in Northern Ireland during the Troubles, encouraging them to be people of dialogue in their own environment and seek to build bridges with people of other faiths and from different cultures.
Participants also heard from Dr Mohammad Ali Shomali, resident Imam and Director of Islamic Centre of England, who spoke in a conference call from Paris. He encouraged the group to "create opportunities of dialogue with everyone…dialogue is what makes us human beings."
The weekend built on the relationship which young people involved with the Focolare Movement in London have established with their peers in the Islamic Unity Society. In the last year they have taken part in joint textual study sessions as well as practical initiatives such as tree planting in Hertfordshire.