[The fire broke out in the 12th floor of the 30-storey Mount Plan Building in August Kranti Marg. (Express photo: Vasant Prabhu)]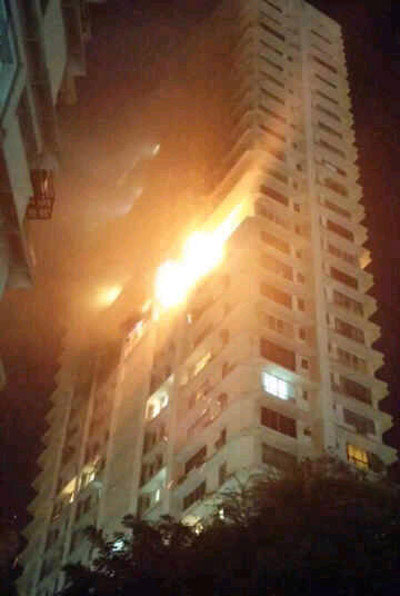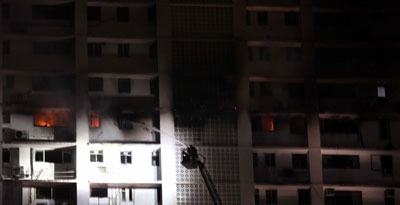 By Tabassum Barnagarwala
Mumbai, (Indian Express): At least seven people were killed and another seven injured after a major fire broke out in a 26-storey building in South Mumbai's high-end area Kemps Corner. While five bodies have been identified till now, two remain unidentified. According to civic officials, the bodies were recovered at 4.50 am Saturday.
Among the seven dead, fire brigade officials said two bodies are charred beyond recognition, one of which is a 40-year-old man, and remain unidentified. It has also been confirmed that producer and diamond merchant Dinesh Gandhi (65) of the 1980s hit film Tehzaab died in the blaze. Other casualties include Sunitra Tejwal (42), Chintanrajan Das (40), Buruwal Mubaliya (40), and Chotu (20)
The fire, which residents claim broke out due to short circuit at 7.10 am, caused a cylinder blast on the 12th floor of Mont Blanc, a residential building. As many as 14 fire brigades and seven water tankers were rushed to the spot. Charmi Zariwala, a resident living in the neighbouring building claimed that it took three hours to douse the fire completely and by 10.30 the firemen were successful in putting out the fire.
According to eye witnesses, several residents had rushed to top floors after the fire spread in the two apartments situated on the 12th floor and several others jumped out on the parapet to escape fire.
While initially residents felt that everyone had managed to rush to the top floors, it was only until early morning on Saturday that charred bodies were discovered.
Out of the seven injured, five firemen are currently recuperating in Navi Mumbai based Airoli burns center, while one patient has been admitted in Nair hospital. Dr Geeta Koppikar, director at Breach Candy hospital, where the casualties were rushed initially, said, "Five firemen were admitted in our casualty ward with superficial burns. They have now been shifted to Airoli hospital for further treatment. Several others came with asphyxiation did not reflect a need for admission."
http://www.indianexpress.com/news/seven-dead-as-fire-breaks-out-on-12th-floor-of-south-mumbai-building/1207378/