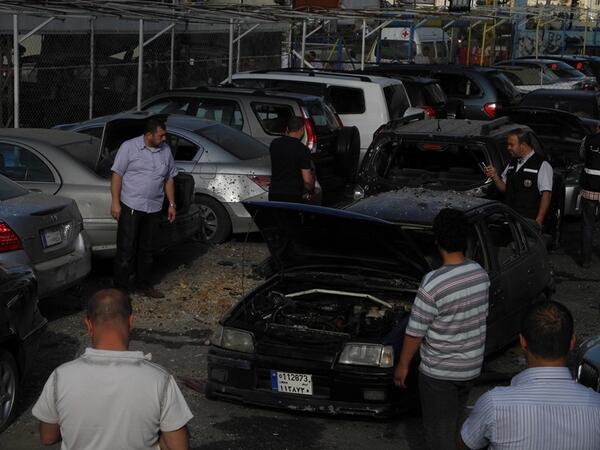 [Pic tweeted: car dealership company targeted by 1 rocket in #Beirut, missile didn't fully go off #Lebanon #Syria pic.twitter.com/pC7F9ijGVV
Two rockets landed in the Beirut suburb of Chiyah Sunday morning, wounding four people, the Lebanese National News Agency reported.
According to LBCI, the rockets landed near the Mar Mikhael church in Chiyah, in an open-air car dealership and a nearby apartment.
There was no claim of responsibility for Sunday's attack. However, a Syrian rebel commander threatened earlier this week to strike against Hezbollah strongholds in retaliation for the party's military support for Syrian President Bashar al-Assad.
According to the Lebanese newspaper L'Orient Le Jour, a Free Syrian Army spokesman denied Sunday that the rebel group was involved, calling the earlier comments by his colleague "irresponsible."
The victims are reported to be all be Syrian workers.
Lebanese President Michel Sleiman condemned the events, calling for a prompt investigation.
"Citizens must be alert to the fullest degree and civil aid must be given in reporting any suspicious person or any suspicious behavior in order to cut off the road to sedition and security unrest for the sake of civil and national peace," the NNA quoted Sleiman as saying.
Caretaker Interior Minister Marwan Charbel came to the site of the missile attack, which he called a sabotage attempt against Lebanon.
Health Minister Ali Hassan Khalil, who also visited the site, condemned the attack.
"This work is condemned and rejected…it is an act of sabotage not linked to a certain identity, but aims to hit stability in Lebanon," he said.
Other politicians reacted similarly, calling for calm and warning against sedition.
Outgoing Prime Minister Najib Miqati also called for vigilance.
The goal of firing these rockets at the southern suburbs is to perturb security. I am calling on everyone to stay vigilant and alert in order to deal with the situation wisely and find a resolution to prevent sedition
The Lebanese army has cordoned off an area between Aytat and Bsaba in Mount Lebanon, from which they believe the rockets were launched. Security forces are looking for a third unexploded rocket, the NNA's correspondent said.
The Chiyah neighborhood provides a strong support base for the Hezbollah resistance movement. The rockets come a day after a televised speech by Hezbollah Secretary General Hassan Nasrallah to commemorate the 13th anniversary of the liberation of southern Lebanon from the Israeli military occupation.
(Al-Akhbar, AP)
http://english.al-akhbar.com/content/rockets-hit-southern-beirut-suburb-injuring-four