[Photo: Car bomb in the southern Beirut suburb of Tayouneh]
A car bomb shook southern Beirut on Monday night, residents said.
Initial reports by Al-Jadeed said that the explosion was caused by a car bomb at a military checkpoint. An eyewitness told the news channel they had seen a white Mercedes go against traffic. The army then fired at the car before it exploded, damaging a nearby café.
Security sources have told Al-Akhbar that at least one person has been killed in the explosion, which took place 30 meters away from a military checkpoint near the entrance of Hadi Nasrallah freeway, near the Shatila roundabout.
The Red Cross confirmed that the suicide bomber was the only casualty. Medical sources estimated that between 12 and 15 people were injured.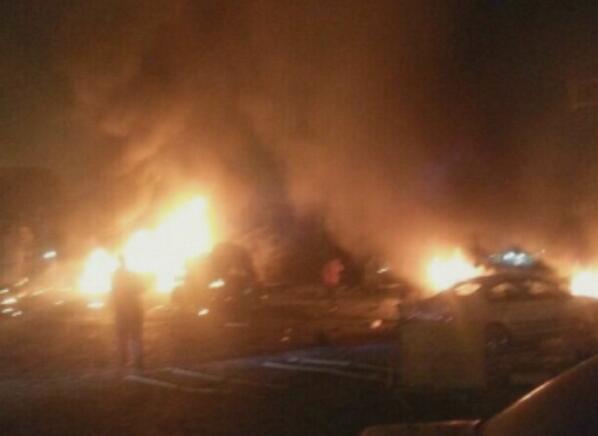 Explosion near Café Assaf in Tayouneh
Rumors that the suicide bomber was a woman spread on social media, but remained unconfirmed by Lebanese authorities.
This is the second bombing in Lebanon in less than a week, after three months of relative calm.
On Friday, a suicide bomber blew himself up at a police checkpoint in eastern Lebanon, killing one policeman and injuring over 30 people.
(Al-Akhbar)
http://english.al-akhbar.com/content/explosion-heard-southern-beirut