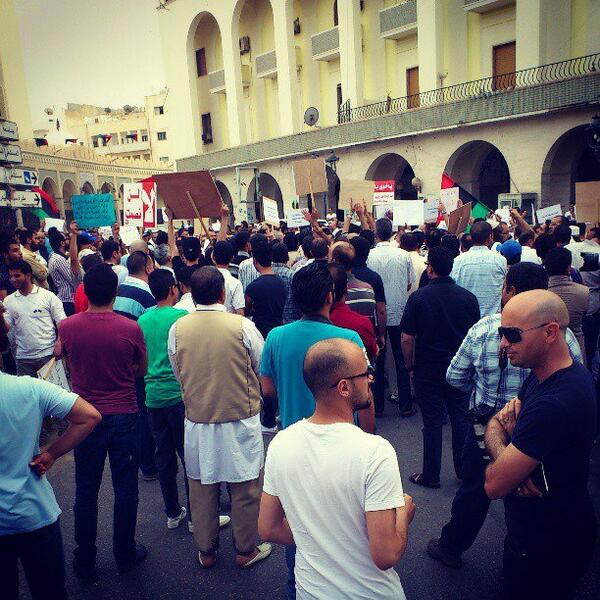 Wafia وافيه          @AmotfeekyaLibya
The Libyan army was deployed to Tripoli's main square on Friday to guard a pro-government rally and became involved in an uneasy standoff with anti-government gunmen.
Hundreds of anti-militia protesters were rallying against groups of gunmen who have taken control of two ministries in the capital.
Raising banners that read "No democracy with force," the demonstrators marched on the capital's Algeria Square and the main Martyrs' Square but were attacked by rivals who tore their placards and forced them back, witnesses said.
Protesters then marched to the headquarters of the Cabinet to voice support for the government.
"We are here to support the government and ask the prime minister to deploy the police and the army. We don't want the militias here any more," one protester said at the rally that had been organized through social networks.
After the pro-militia supporters pushed back their opponents from the main square, only the gunmen and the soldiers were left in a tense standoff.
Tensions have been high in the capital since militias stormed the Foreign Ministry, calling for a ban on officials who had worked for deposed leader Muammar Gaddafi holding senior positions in the new administration.
Armed militiamen in pick-up trucks mounted with anti-aircraft guns and rocket-launchers have been in control of the Foreign Ministry since Sunday, and on Tuesday also surrounded Libya's Justice Ministry.
The anti-government gunmen in the square parked their pick-ups, marked with spray paint to identify their towns, next to the soldiers, where they stood in separate groups.
Some had stuffed the barrels of their anti-aircraft guns with pink, red and white flowers in an attempt to defuse the tension with the military stationed at their side.
A Defense Ministry source said the order to deploy the military in the square and on the main road to the airport had come from the office of Prime Minister Ali Zeidan.
"We need to change the government," said one of the anti-government gunmen, who said he was working for a group from Misrata, which had parked a pick-up truck alongside one of the army's armored cars.
"We are here to show the world we are with the army. We are not anti-army, we are against the government."
The ban demanded by the militia could apply to several long-serving ministers, the congress chairman and the prime minister himself, depending on the wording adopted.
The cabinet and Libya's official armed forces are so weak that swathes of the oil-producing desert country remain outside central government control.
The militias who played a pivotal role in the revolt that toppled Gaddafi have never left the capital.
The Foreign Ministry and Justice Ministry remained in the control of militias on Friday, while other ministries and the state media have also been targeted over the course of the week.
(Reuters, AP)
http://english.al-akhbar.com/content/libyan-forces-take-positions-tripoli-amid-sieges